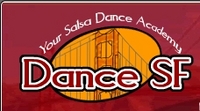 We joke that the first few steps are yours, in actually coming to a salsa class, and the rest of the way - we'll take you. You'll be dancing salsa in your very first class.
San Francisco, CA (PRWEB) June 10, 2009
DanceSF.com has won first place in the 2009 Baylist awards for best dance lessons and is set to re-double their efforts to reach out to new and aspiring dancer's and spread the joy of salsa dance to everyone whom has the courage to give it a try!
DanceSF is the San Francisco Bay area's leading Salsa Dance Academy for social salsa dancing, catering to all levels of salsa experience from absolute beginning to advanced, DanceSF has something for the dancer in everyone with their step by step, progressive technique.
"Our salsa dancing school has helped tens of thousands of people take their first steps in dance, and has hundred of dance lesson reviews. We been in San Francisco for over ten years, and our parent company, SalsaCrazy.com, is behind the worlds largest global salsa dancing network," says Evan Margolin, CEO of SalsaCrazy, Inc. "While it's great to get awards and recognition among our peers; we also get that everyday in our classes as new dancers are inspired, and our classes continue their amazing popularity."
As reality TV shows continue to shine the spotlight on learning to dance, and salsa dance maintains it's lead as the most celebrated dance style, salsa dancing continues to become increasingly popular, both as a style of music, and as a dance. Through increased awareness, more and more people are being exposed to dance, and seeking out ways to learn what they see on television. However, it can be difficult for many people to take those first few steps in learning to dance.
"What sets DanceSF apart is our understanding of just how hard those first few steps in dance can be (for a beginner). Our step by step breakdown methods, which makes learning to salsa dance incredibly fun and entertaining, is really geared towards removing that difficult barrier to entry, so that everyone can experience the incredible passion and joy that dance can bring," says Margolin, CEO of SalsaCrazy, inc. "We joke that the first few steps are yours, in actually coming to a salsa class, and the rest of the way - we'll take you. You'll be dancing salsa in your very first class."
This is a great time to learn to dance salsa. The relief and benefits of dance are needed even more in these tough economic times. Simply put, those who learn to dance will have more fun" says Margolin. "There's such a vibrant dance community here, in the San Francisco Bay Area. There are so many clubs, and so much live music, and so many people out dancing. It's crazy to live here and not learn to salsa dance, or at least try it out. Our classes are fun, social, and entirely step by step, progressive".
About DanceSF:
What was once just a passion for Evan Margolin has turned into San Francisco's most popular dance school, the world's bestselling salsa dance DVD series, and over a dozen web sites fueling the worldwide salsa dance craze. With the goal of helping beginner dancers learn the joy of salsa dancing, Margolin has created a suite of fantastic opportunities to get people out on the dance floor. DanceSF is the premiere salsa dance school in the San Francisco Bay area, which is staffed by internationally recognized salsa instructors and teaches dance classes throughout the Bay Area. Learn to Dance Salsa is a 5-set DVD collection with over 10 hours of dance instruction that's guaranteed to turn any beginner into a dance aficionado in just minutes. See http://www.SalsaDanceDVD.com.
What is the BayList?
The BayList provides the insider's scoop to everyday decisions, featuring information, ratings and reviews on thousands of San Francisco area businesses. The BayList features promotional contests conducted by SFGate.com and CityVoter that invite people to nominate and vote for their favorite local businesses.
###