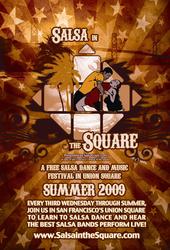 San Francisco has always had an incredibly talented mix of salsa instructors and musicians, and with live bands performing each and every month, it's sure to be a scorching hot summer in San Francisco - we expect another incredible turnout
San Francisco, CA (PRWEB) July 15, 2009
SalsaCrazy announces a San Francisco Salsa Dance festival celebrating salsa dance and music with free salsa lessons and live music. Throughout Summer 2009, The second SalsaCrazy event in Union Square features the live salsa band, Edgardo y Candela, and beginning salsa lesson provided by http://www.DanceSF.com
SalsaCrazy will be providing free salsa dance classes and live salsa music concerts showcasing the San Francisco Bay Area's top salsa dance teachers and salsa bands and musicians, all taking place in San Francisco's beautiful Union Square, each and every month.
"Afer the stellar opening of Salsa Dancing in Union Square last month, we know we're on to something exciting", says Evan Margolin, CEO of SalsaCrazy, Inc. "With over a thousand people enjoying the music, and several hundred people taking the dance classes, we're able to really highlight the amazing and vibrant salsa dance scene we have here in the San Francisco Bay Area."
As reality TV shows continue to shine the spotlight on learning to dance, and salsa dance maintains it's lead as the most popular dance style, salsa dancing continues to become increasingly popular, both as a style of music, and as a dance. "It's the perfect time to showcase salsa dance and music in the heart of the already spectacular San Francisco salsa dance scene - reaching out to everyone with free music and lessons" say Margolin.
Salsa in the Square, will showcase salsa dance lesson s and the cities finest salsa bands, in a series of outdoor concerts throughout summer 2009. On Wednesday, July 15th, Edgardo Cambon y Candela will take the stage electrifying Union Square and creating a huge San Francisco salsa dance event.
Union Square is one of the most historic and beloved gathering places in San Francisco and one of the most notable urban spaces in the world. The entire festival is free, and open to the public. Everyone is encouraged to attend.
The Jewels in the Square Perfromance Series brings live music, dance, outdoor movies and other entertainment to Union Square Park for everyone to enjoy. Jewels showcases upcoming and emerging talent with a unique San Francisco flair. Jewels is an ongoing program series sponsored by MJM Management Group and the San Francisco Parks Trust.
"We have a fantastic lineup of salsa dance classes and live music that's going to make a fantastic set of events in Union Square" says Margolin. "San Francisco has always had an incredibly talented mix of salsa instructors and musicians, and with live bands performing each and every month, it's sure to be a scorching hot summer in San Francisco - we expect another incredible turnout".
Founded in 1996, SalsaCrazy.com is the world premier salsa dancing website. What was once just a passion for Mr. Margolin has turned into San Francisco's most popular salsa dance school, the world's bestselling salsa dance DVD series, and over a dozen web sites fueling the worldwide salsa dance craze. With a goal of helping beginner dancers learn the joy of salsa dancing, Margolin has created a suite of fantastic opportunities to get people out on the dance floor.
DanceSF is the premiere salsa dance school in the San Francisco Bay area, which is staffed by internationally recognized salsa instructors. Learn to Dance Salsa is a 5-set DVD collection with over 10 hours of dance instruction that's guaranteed to turn any beginner into a dance aficionado in just minutes. See http://www.SalsaDanceDVD.com.
For more information, please refer to the website
http://www.SalsaintheSquare.com
# # #