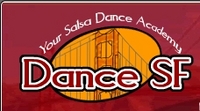 says Evan Margolin, president of DanceSF.
San Francisco, CA (PRWEB) May 22, 2008
DanceSF.com announces salsa dance classes throughout the summer in the San Francisco Bay Area. DanceSF, the San Francisco and Bay area's leading Salsa Dance Academy for social salsa dancing, announces its schedule for Summer 2008, catering to all levels of salsa experience from absolute beginning to advanced, DanceSF has something for the dancer in everyone.
There's never been a better time to learn salsa dancing, and take a dance class, especially right here in the San Francisco Bay Area" says Evan Margolin, president of DanceSF. "There's such a vibrant dance community here. There are so many clubs, and so much live music, and so many people out dancing. It's crazy to live here and not learn to salsa dance, or at least try it out. Our classes are fun, social, and entirely step by step, progressive".
DanceSF.com salsa dance classes take place on multiple days, in various locations around the San Francisco Bay Area. There's no experience and no partner necessary, as the classes are filled with people, and everyone dances with everyone else. For those that want to have fun, having an outlet to release physical energy, impress dance partners on a dancing date, or get a date (salsa classes usually have the hottest singles), these classes are for everybody.
"Our summer schedule of salsa lessons offers more salsa dance opportunities than ever before," says Margolin, President of DanceSF. "With classes for every skill level, our instructors can't wait to start the summer off with a hot twist and a turn as they share their love of salsa with our students. Salsa dancing can change your life…or at least help you get in shape for summer, in a fun and energetic way. When you take a 4 week class at DanceSF through summer, you will learn how to move across the dance floor in ways you never imagined possible before. It's so much fun to see the confidence and energy that every student leaves our classes with."
For those people who have been making resolutions to get fitter, leaner, healthier, or livelier but have never started on them yet, now is the time. Many will be surprised at how Salsa dancing can enrich their lives. Salsa dancing improves flexibility, coordination, and passion. Dancers will learn a skill that will give them enjoyment for years to come.
Don't delay, complete registration and information is available now at http://www.DanceSF.com. Get started dancing today. There's no better way to begin the Summer than with the excitement salsa dance can offer!
About DanceSF
What was once just a passion for Evan Margolin has turned into a very popular dance school, DVD series, and web site fueling the worldwide salsa dance craze. With a goal of helping beginner dancers learn the joy of salsa dancing, Margolin has created a suite of fantastic opportunities to get people out on the dance floor. DanceSF is the premiere salsa dance school in the San Francisco Bay area, which is staffed by internationally recognized salsa instructors. Learn to Dance Salsa is a 5-set DVD collection with over 10 hours of dance instruction that's guaranteed to turn any beginner into a dance aficionado in just minutes. See http://www.SalsaDanceDVD.com.
# # #