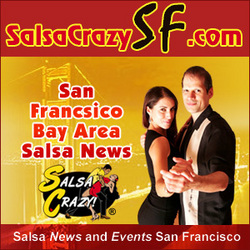 San Francisco is truly a unique city and area for salsa dancing, in that we have a huge community of both dancers, salsa clubs, salsa bands and music that is vibrant and growing
San Francisco, CA (PRWEB) May 15, 2008
The San Francisco Bay Area, a focal point for salsa dance and music throughout the country, now has a dedicated website that covers salsa dancing in, and around, the San Francisco Bay Area, with a unique and crazy twist. From the people who brought you SalsaCrazy,com worldwide salsa news, comes a website dedicated entirely to San Francisco salsa dancing news and events.
"San Francisco is truly a unique city and area for salsa dancing, in that we have a huge community of both dancers, salsa clubs, salsa bands and music that is vibrant and growing," says SalsaCrazy President, Evan Margolin. "San Francisco needs a complete website, devoted entirely to the salsa clubs, salsa dance lessons, and amazing salsa dancing events that take place daily throughout the San Francisco Bay Area. We're passionate about it, and we're going to provide it".
SalsaCrazySF.com presents detailed salsa club and salsa class listing for the entire Bay Area, with a day by day event calendar that Is widely used, and free to post events in. The website serves as a hub and community for those interested in salsa dance, and an informational portal for those who want to start dancing.
SalsaCrazySF.com is also host to the first video podcast on salsa news and events taking place in the area. "We're very excited about our new video podcast, and have always been eager to promote salsa dancing any way possible," says Margolin. "It's been our passion for over a decade, and this website and video podcast allows us to reach out in ways that are new and bold for the scene...." We appreciate the time being able to focus on San Francisco.
The website will provide a way to connect San Francisco's diverse and growing salsa community. With all the events, classes, clubs and instructors listed, all over the Bay Area, this website provides a service that is sorely needed. The weekly email list, one of the largest of it's kind, anywhere in the world, will keep San Francisco's salsa scene well informed and up to date on all the upcoming events. SalsaCrazySF is available immediately, and the launch party is schedule for June, 2008.
The SalsaCrazy brand is known worldwide as the bestselling Salsa Dance instruction videos to learn to dance in the world, as well as an salsa dancing information powerhouse, covering salsa dance nightlife, events and classes, in over a dozen countries.
# # #