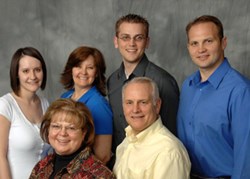 I am so thrilled at what I am hearing and the quality. I can now talk on the phone without static. It is amazing to me to hear clearly. Thank you for the batteries, the very generous discount, and your professional and friendly relationship and service.
Salt Lake City, UT (PRWEB) May 08, 2013
To better serve the hearing care requirements of Salt Lake City, Advanced Hearing Center has published a hearing aid and hearing loss reviews page to their website at americanhearingbalance.com. The brand new section on the site is a place to share the hearing loss, hearing aid, tinnitus and hyperacusis experiences of past and current patients .To gain better distribution for the video testimonials from former patients, Advanced Hearing Center will also be making all the videos available on the company's YouTube account where patients can also watch educational video content from Dr. Enoch Cox on the subjects of hearing aids and hearing loss.
Dr. Enoch Cox is delighted to present this new enhancement noting that it's extremely helpful for potential patients to be able to see themselves in the stories of others. It's very important for people suffering from hearing impairment to know that they are not alone and to learn about available treatments such as hearing aids. Browsing the testimonies of other community residents on the recently completed testimonials page is one step toward building a sense of community amongst people with hearing impairments.
People viewing the testimonies on the website are advised to not attempt a self-diagnosis as there are many different reasons of hearing impairments. Only a professional audiologist can correctly evaluate symptoms such as buzzing in the ears, pain or hearing loss. A physical exam of the ear and complete hearing test are the initial steps in understanding the cause of the problem. The remedies that have worked for the other patients included on our testimonials page, won't be applicable in all cases.
About Dr. Enoch Cox
Dr. Enoch Cox is a leading expert in hearing aid technology and fitting with degrees from both Brigham Young University and the University of Utah. During his studies at BYU he experienced sudden onset hearing loss and dizziness giving him a much better ability to relate to his patients medical and emotional needs. The Department of Veterans Affairs has recognized him for his outstanding service and willingness to go above and beyond in support of his peers and patients.
About Advanced Hearing Center:
Advanced Hearing Center serves the Salt Lake City and surrounding Utah communities with a full range of diagnostic and preventative hearing healthcare, including hearing tests, hearing aid sales, fittings, adjustments and repairs, preventative care and ear protection, and rehabilitative counseling. Advanced Hearing Center is dedicated to keeping abreast of the latest improvements and technological advancements in the hearing industry and committed to offering the most current options to patients. Advanced Hearing Center currently has five locations in Salt Lake City, Draper, Tooele, Price and Orem UT.
Contact:
Dr. Enoch Cox
http://www.advancedhearing.org
Advanced Hearing Center
1137 East 2100 South
Salt Lake City, UT 84106
(801) 386-8552
Advanced Hearing Center
147 West Election Road, Suite 200
Draper, UT 84020
(801) 386-5882
Advanced Hearing Center
811 North 900 West
Orem, UT 84057
(801) 783-5474
Advanced Hearing Center
255 South 100 East, Suite 203D
Tooele, UT 84074
(801) 783-5662
Advanced Hearing Center
55 North 600 East
Price, UT 84501
(801) 783-5711