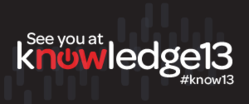 Marc Chenn, SaltStack CEO, said, "From our perspective, the business of the modern enterprise IT runs through ServiceNow for a substantial number of the world's largest enterprise organizations."
Las Vegas (PRWEB) May 13, 2013
SaltStack, the full systems and configuration management stack for any cloud, today announced the introduction of enterprise DevOps toolchain support to IT service management (ITSM) and ServiceNow service automation. SaltStack will sponsor the ServiceNow Knowledge13 user conference which is recognized as the largest gathering of IT service automation professionals in the world. The conference will be held May 13-16 in Las Vegas at the Aria Resort and Casino.
SaltStack provides provisioning for any cloud in addition to configuration management for heterogeneous data center infrastructure. SaltStack is integrating with ServiceNow service catalog and orchestration to provide end-to-end enterprise IT infrastructure and public and private cloud automation.
Enterprise IT organizations use the ServiceNow service catalog and automation platform to orchestrate business service requests. With ServiceNow acting as the front end for service requests and work flow automation, SaltStack can be used to execute work in the modern data center. Private cloud provisioning, public cloud orchestration, easy and scalable configuration management, real-time server data monitoring and automation, and the work of DevOps teams generally can be more efficient through the combination of SaltStack and ServiceNow.
Marc Chenn, SaltStack CEO, said, "From our perspective, the business of the modern enterprise IT runs through ServiceNow for a substantial number of the world's largest enterprise organizations. The more automation SaltStack can help promote within these organizations, the more efficient and responsive enterprise IT will be to the needs of a world full of cloud speed and scale."
Marc and Thomas Hatch, SaltStack CTO, will be available at Knowledge13 for demos and briefings. Find them in booth 12 in the ExpoNow hall.
SaltStack is unique in providing enterprise software for remote system execution together with configuration management built specifically for modern data center infrastructures and any cloud environment. SaltStack software helps create system infrastructure state and automation flow for optimal IT operations including physical and virtual system provisioning and management, any cloud orchestration, continuous deployment, and application release automation.
SaltStack is utilized by enterprise application support teams, system administrators and DevOps staff who require fast and scalable process automation. SaltStack works in a push or pull model with intelligent masters and minions for flexible and dynamic automation.
The Salt open source project currently has more than 400 unique contributors, notably larger and more active than any other systems or configuration management community. In 2012, Salt was named by GitHub as one of its top-ten largest development projects. SaltStack is a long-term supported branch of Salt and, by design, SaltStack code is 100% open, not open core.
SaltStack licensing and pricing
SaltStack Enterprise software is built and packaged for the unique requirements of enterprise businesses and cloud startups. SaltStack is a single, self-contained software platform with no third-party software dependencies to provide customers with the fastest and easiest implementations. For enterprise customers with substantial investments in commercial technologies, SaltStack provides dozens of states and integrations with both proprietary and open platforms. SaltStack customers also receive world-class support, training, access to consulting services, and the ability to provide exclusive input into the SaltStack development roadmap. SaltStack offers an annual subscription license based on managed nodes with volume and other license-based discounts available. For a pricing details, please contact sales(at)saltstack(dot)com.
Find SaltStack
Like us on Facebook: https://www.facebook.com/saltstack
Follow us on Twitter: http://twitter.com/SaltStackInc
Watch us on YouTube: http://www.youtube.com/saltstack
Chat with us on IRC: freenode #salt
About SaltStack
SaltStack is the complete systems and configuration management for fast and scalable deployment and automation of any cloud. Salt is used to orchestrate and control physical and virtual infrastructure while providing systems automation for the DevOps toolchain. The Salt open source project was launched in February of 2011 and is now one of the fastest-growing, most-active communities in the world. SaltStack was founded in August 2012 to support the Salt project and to deliver commercialized SaltStack Enterprise software packaged for the world's most-dynamic large and small businesses. SaltStack was selected as a GigaOm Structure LaunchPad finalist in 2013, named to the GitHub Octoverse Top 10 list for 2012, and was a BlackDuck Rookie of the Year for 2011. For more information, please visit http://www.saltstack.com.