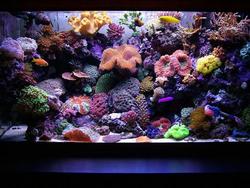 Many of our members are retired and find keeping a saltwater aquarium very relaxing. However, interest in aquariums crosses generations. Children love to sit and stare at aquariums. Since the hit movie, 'Finding Nemo,' most children are familiar with clownfish and you'll often hear children shout out 'Nemo!'
Bells, TX (PRWEB) October 30, 2007
A new online community that caters to people who keep saltwater aquariums has reached a milestone, now boasting more than 12,000 members. Reef Builders, at http://www.reefbuilders.com , is a thriving online community for people interested in everything to do with saltwater reef aquariums: from step-by-step building instructions, to forums on fish breeding, disease, corals, marine plants, to galleries of pictures from community members and the latest articles, videos and news from around the world.
"We only opened the doors to the community in January, 2007 and I am overwhelmed at the site's success," says Reef Builders' owner Ryan Gripp. "Many of our members are retired and find keeping a saltwater aquarium very relaxing. However, interest in aquariums crosses generations. Children love to sit and stare at aquariums. Since the hit movie, 'Finding Nemo,' most children are familiar with clownfish and you'll often hear children shout out 'Nemo!'"
Information at ReefBuilders.com is extensive. Just some of the offerings include:

Information on building and maintaining saltwater aquariums, from the small nano reefs to large, complex aquariums
A place to exchange ideas, advice and general know-how
Specific forums on tanks, equipment, types of fish, invertebrates and corals
The Reef Community Blog
Member Photo Galleries
A species database, the latest articles, videos and information
The Reef Builders Magazine
"People don't realize just how easy it is to keep a saltwater aquarium," says Gripp. "With the Reef Builder community, resources are just a click away."
For more information about Reef Builders, please visit http://www.reefbuilders.com.
About Reef Builders
Launched in January 2007, Reef Builders is the online source for people interested in keeping saltwater aquariums or reef tanks. Reef Builders was founded by Ryan Gripp, who began keeping saltwater tanks 10 years ago. As his enthusiasm grew, he decided to create the Reef Builders site for people everywhere to create, explore, and maintain saltwater aquariums.
Contact:
Ryan Gripp
903-421-3157
ryan.gripp @ reefbuilders.com
http://www.reefbuilders.com
###