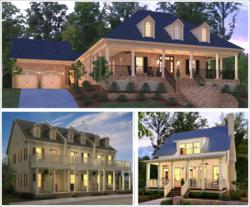 Columbia-Lexington, SC (PRWEB) May 19, 2011
The first of two Open House weekends attracted large numbers of visitors to Saluda River Club.
Self-guided tours of the new Showcase Homes gave guests a chance to preview the outstanding new home collections and amenities at Saluda River Club.
The Showcase Homes Open House tours will continue again this weekend, May 21 & 22, Sat. 10am – 7pm and Sun. 1pm – 7pm. Guests can also schedule a personal tour for any day of the week by contacting the Saluda River Club sales center. 803-358-3969.
Saluda River Club's Collection of Homes offers executive estates on large wooded lots, comfortable family homes, beautifully appointed townhomes and charming cottages. Prices range from the low $200s to over $500,000. The combination of a unique riverfront location, social and recreational amenities and the variety of home styles has resonated with homeowners seeking a distinctive home and an active lifestyle.
The community is just minutes from downtown Columbia and the highly rated Lexington schools. Homeowners enjoy a neighborhood way of life with holiday parades, yoga classes, book clubs, children's activities and informal cookouts in the season. Other amenities include a full-time Lifestyle Director, Village Clubhouse and pool and the Chickawa Club for riverfront recreation.
The decorated Showcase Homes allow potential buyers to experience Saluda River Club in a unique and intimate way. Visitors are encouraged to call the Saluda River Club Sales Center at (803) 358-3969 to schedule an interactive, informative tour of the community, meet homeowners and visit the all-new furnished Showcase Homes.
The Open House tours will continue again this weekend, May 21 & 22, Sat. 10am – 7pm and Sun. 1pm – 7pm. Visit http://www.SaludaRiverClub.com for more details.
# # #