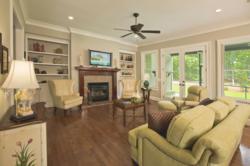 Word of mouth and color brochures are great, but nothing compares with seeing a fully decorated home.
Lexington, SC (PRWEB) June 02, 2011
Visitors Flock to Lexington to View New Models
Saluda River Club, the most successful new home community in South Carolina history, now offers visitors an intimate view of its residences. The Decorated Showcase Homes opened to record crowds during two recent weekend open house events.
"We were extremely gratified to welcome more than 200 couples and families," says Andy White, Lifestone Communities, LLC partner. "Word of mouth and color brochures are great, but nothing compares with seeing a fully decorated home." The state's leading interior designers teamed up with Saluda River Club to furnish six residences typical of available homestyles and sizes. Guests also toured the award-winning Village Clubhouse and Chickawa Outdoor Center.
From large estate homes to right-sized townhomes and coastal cottages, The Decorated Showcase Homes reflect the flexibility and "livability" of Saluda River Club. Homes are located in two distinct neighborhoods – the River District and The Village District. Visitors can see a range of options that appeal to busy professionals, growing families and empty nesters.
"The variety of homes has attracted a wide range of homeowners who have created a warm, traditional neighborhood feeling," says White. "With onsite riverfront recreation and activities for all ages, the community is truly unique in the Midlands," he adds.
The homes borrow from the finest architectural styles of the past and integrate them with contemporary, open floor plans. The result is gracious living in a relaxed Lexington setting, close to top schools and minutes from downtown Columbia.
The Decorated Showcase Homes are open daily from 10 to 7.
Saluda River Club is the recipient of the 2009 Best in American Living Award and the 2008 Community of the Year award given by the Columbia Homebuilder's Association. Located on the Saluda River off Corley Mill Road in Lexington, Saluda River Club offers an exclusive suburban setting with unique amenities including concierge services and the Chickawa Outdoor Center and Village Clubhouse. To learn more call (803) 358-3969 or visit saludariverclub.com. Saluda River Club is a Lifestone Communities development.
###