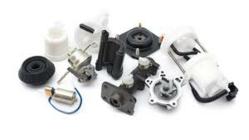 Multiple salvage yards in Louisville, KY are now distributing the parts orders from this company.
Louisville, Kentucky (PRWEB) May 30, 2013
Locating auto parts for pickup trucks, passenger vehicles and SUVs can be one of the challenges of being a vehicle owner. Dealerships typically control the distribution of OEM parts and a higher retail price can often be found using these sources. The AutoProsUSA.com company has reached new distribution agreements with suppliers in key states and is now expanding its parts order deliveries in the U.S. Multiple salvage yards in Louisville, KY are now distributing the parts orders from this company. More details about this arrangement can be located online at http://autoprosusa.com/used-auto-parts-in-louisville-ky.
Both interior and exterior parts used to assemble vehicles are built with an expected lifespan. Automakers generally provide a level of protection in the form of a parts warranty when parts are installed inside vehicles. One issue with used parts is the high mileage that can wear down parts faster. Many preowned parts are without warranty protection when sold to vehicle owners searching for an affordable method of parts replacement.
The Auto Pros company built its database of parts online after a careful review of supplier inventory. This company now links buyers with suppliers able to fulfill higher quality used parts orders that include warranty coverage.
Parts enhancements have been made at the Auto Pros USA company this year to expand the total amount of parts that can be purchased online. This company has added a lineup of performance, import and preowned parts for most automakers. These enhancements are expected to provide better inventory resources for buyers.
The news release provided at http://www.prweb.com/releases/performance-auto-parts/auto-parts-online/prweb10504944.htm was used to provide the initial information to the buying public. The addition of the performance parts in the company inventory is now contributing to increased sales for this company in 2013.
The company quote system that is now used to provide immediate pricing online has been well received by buyers. This system offers pricing both during or after the company has closed each day. This virtual delivery of parts pricing in the company database is one new option installed online this year. The company support staff continues to provide service through the offline toll-free number. Each of these ways provides ways to receive information about parts before orders are placed by buyers. The expanded distribution with suppliers that has taken place this year is scheduled to continue as new agreements are reached.
About AutoProsUSA.com
The AutoProsUSA.com company offers parts buyers in the United States easier methods for locating classic and newer parts types. The supplier network built by this company has helped to provide better pricing for the inventory in the company database. The low pricing and same day order processing for customers has helped to boost the amount of sales made by this parts company. The AutoProsUSA.com company has redesigned its company website this year to allow easier price quotations and information to be displayed to help buyers during the research process. Better improvements in technology and database inventory is completed on a regular basis.