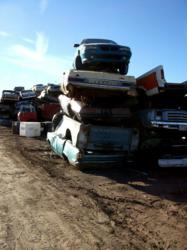 The current listings for Milwaukee salvage companies inside the Auto Pros company database is expected to help buyers in all parts of the country.
Milwaukee, Wisconsin (PRWEB) June 17, 2013
Replacement automotive parts and accessories are offered by many salvage yards in the U.S. The AutoProsUSA.com company has created its online resource to connect these companies with parts buyers on the Internet. This company is now helping salvage yards in Milwaukee to list available parts ready for sale and shipment to the public at http://autoprosusa.com/used-auto-parts-in-milwaukee-wi.
These yards are now entering parts in the company database that is searched by consumers in state and out of state. This parts resource online is now linking import and domestic parts from various yards to help consumers make better purchases.
The distribution of auto parts in North America is partly controlled by automakers and distributors that service wholesale accounts. The supply chain has been in place for decades to protect dealer pricing for the most essential auto parts. Two drawbacks buyers have when searching for parts replacements for any vehicle type is inventory shortages or price fluctuations.
The secondary parts market has remained one of the easier sources to find parts not distributed through the traditional supply chain. The current listings for Milwaukee salvage companies inside the Auto Pros company database is expected to help buyers in all parts of the country.
"We've expanded into multiple states since the start of this year," said a source from the AutoProsUSA.com website. These pairings of salvage companies in select parts of the U.S. are helping companies in different states to ship parts to consumers on both coasts. This expansion is creating a larger resource to find preowned parts compared with purchasing new from auto dealerships.
"The database is updated daily as suppliers submit available parts that can be quoted online," the source added. All price quotations that are generated by using the Auto Pros USA quote system come from third party suppliers competing for consumer sales.
The relationships now built with junkyards and salvage companies in most parts of the country have increased the amount of searchable inventory that consumers can find using the company website. Due to these new partnerships, greater numbers of interior and exterior auto parts can now be found without the regular research required using offline search methods.
The news published online at http://www.kctv5.com/story/22541208/used-car-computer-inventory-now-discounted-for-buyers-online-at-auto-pros-usa announced to the public the inclusion of computer controlled systems now available for purchase. These types of parts were usually reserved to dealerships and are now made available for public purchase.
About AutoProsUSA.com
The AutoProsUSA.com company gives immediate access to consumers in the U.S. searching for available auto parts at prices below dealership retail. This access to the discount auto parts listed for sale online is made possible through better arrangements with auto parts distributors and third party sellers. The growing network of salvage and junkyard dealers now listing parts for consumer purchases is increasing the inventory searchable online. The AutoProsUSA.com company developed its unique quoting system for parts and accessories pricing online. This system provides information as well as the company toll-free number before sales are processed.