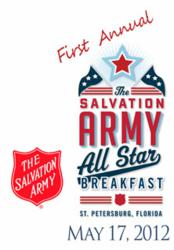 St. Petersburg, Florida (PRWEB) May 15, 2012
The first annual All Star Breakfast will be hosted by The Salvation Army in St. Petersburg, Florida and led by Master of Ceremonies, Al Ruechel of Bay News 9. The breakfast is an opportunity to honor individuals, businesses and organizations that are making an impact in the community. The Salvation Army celebrates their centennial year in Pinellas County and kicks off National Salvation Army week throughout the nation May 14-18 with a wide spectrum of events to celebrate.
This Thursday, May 17, from 11 a.m. to 1 p.m., The Salvation Army mobile canteen will be parked in Lykes Square in downtown Tampa, and volunteers will hand out cold water to passers-by, wishing them well. And, Major Tim Gilliam of The Salvation Army's St. Pete Command will throw out the first pitch at the Rays game that same evening.
The Salvation Army supports those in need through an array of services. The proceeds from this event will provide assistance to struggling individuals, children and families in our community who seek to gain self-sufficiency.
WHO: The Salvation Army, St. Petersburg
WHAT: First Annual All Star Breakfast
WHEN: May 17, 2012
WHERE: Hilton St. Petersburg Bayfront
333 First Street South, St. Petersburg, Florida 33701
The event will honor: All Star Corporate Citizen, Clark Scherer of Scherer Construction; All Star Civic Organization, The Rotary Club of St. Petersburg; All Star Life Achievement, Robert Menke of Bankers Financial Group; All Star Public Safety, Paramedic, Michael Allen; Firefighter, Jeff Brady; Police Officer, Damien Schmidt; All Star Volunteer, Dr. Dominque Thuriere of the VA Hospital; and All Star Good Samaritan, Coach Joe Maddon.
For more information on what is happening in the Clearwater, St. Petersburg and Tampa Salvation Army visit the Tampa Bay Area Salvation Army Facebook page at https://www.facebook.com/SalvationArmyTampaBay.
About The Salvation Army
The Salvation Army, an evangelical part of the universal Christian church established in London in 1865, and has been supporting those in need in His name without discrimination for 130 years in the United States. Nearly 30 million Americans receive assistance from The Salvation Army each year through the broadest array of social services that range from providing food for the hungry, relief for disaster victims, assistance for the disabled, outreach to the elderly and ill, clothing and shelter to the homeless and opportunities for underprivileged children. 82 cents of every dollar The Salvation Army spends is used to support those services in 5,000 communities nationwide.
For more information about Salvation Army in the Tampa Bay Area, visit http://SalvationArmyTampaBay.org, or for a location near you visit http://www.SalvationArmyusa.org.