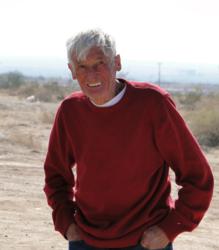 Leonard personifies the Biblical description of 'salt and light' and 'child-like faith' like no one else I know."
Niland, CA (PRWEB) April 05, 2012
Forty years ago, a troubled drifter came to believe he was called to tell the world, "God is love" and created the colorful desert artwork known as Salvation Mountain in his quest. Documentarian, Patrick Rea, who has been chronicling the life of the folk artist, Leonard Knight, since 2007, begins a Kickstarter funding campaign for his documentary film "Leonard" on March 15, 2012.
It was just as the world's most famous hobo "went viral" as a result of his cameo in the film, "Into the Wild" that Rea was captivated by Knight's story. After capturing nearly 50 hours of footage over the past four and half years, Rea is seeking the funds to finish his film through the now infamous crowdfunding site, Kickstarter.com which has selected Rea's film "Leonard - The Story of Salvation Mountain and Leonard Knight" for a 40 day internet funding campaign.
After twelve years, Knight who is affectionately known as "Leonard," tried one last time to launch his "God is Love" hot air balloon, from the remote desert squatters camp of Slab City, near the Salton Sea, in 1984, and failed. He decided to stay and find a different way to honor God, and after decades of trials, developed engineering innovations with natural materials. The structure that resulted is now known as Salvation Mountain, the largest adobe art Installation in the world. To date, over half a million people have visited the mountain and listened to Leonard talk about God.
Realizing the potential of Leonard's story, Rea began a series of regular trips to the mountain where Leonard lived and worked, to chronicle his life on film. Rea says "I'm convinced he is the most fascinating person in the world! Leonard personifies the Biblical description of 'salt and light' and 'child-like faith' like no one else I know."
Rea gained Leonard's trust which enabled him to share for the first time, the intimate details of his life which led to the creation of Salvation Mountain. These interviews as well as recently discovered journal-like songs written by Knight 40-50 years ago provide great insight into this sometimes misunderstood man. Rea's intention for "Leonard" is to take the viewer into the mind of an outcast who struggled with feelings of worthlessness and abandonment in his early days, yet eventually created the artful refuge that was declared a National Treasure by the U.S. Congress in 2002.
In 2010 Leonard was diagnosed with early dementia. Rea states, "I realized at this point, I was actually chronicling the brave decline of a true saint, as he clings to his faith, while struggling with the onset of dementia. The way this plays out is one of the most inspiring stories I've ever heard of, and I feel truly blessed to have been given the opportunity to tell it."
For more information on "Leonard, " go to SalvationMountaintheMovie.com. To join the Kickstarter campaign for "Leonard, go to Kickstarter.com
ABOUT PATRICK REA
Patrick Rea is an award winning/Emmy nominated documentarian and segment producer. He founded Blue Sky Media, a San Diego based film and video production company over twenty years ago. He is currently producing the documentary film "Leonard - The Story of Salvation Mountain and Leonard Knight."