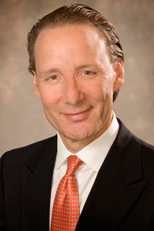 [I]t's fair to allow attorneys to receive the same fees as they could receive in other, non-medical negligence cases, which is what this law accomplishes.
Chicago, IL (PRWEB) February 02, 2013
Chicago lawyer Patrick A. Salvi today praised what he called a "fair" new Illinois law that will allow attorneys to receive up to one-third of a plaintiff's award – but no more – in medical malpractice cases.
"Considering the significant investment of time, effort and resources that medical malpractice cases require, and the highly complex nature of such cases, it's fair to allow attorneys to receive the same fees as they could receive in other, non-medical negligence cases, which is what this law accomplishes," Salvi said. "At the same time, this law will prevent lawyers from seeking higher fees."
Salvi is the managing equity partner of the Chicago law firm of Salvi, Schostok & Pritchard P.C. and a former president of the Illinois Trial Lawyers Association (ITLA), the organization that stood behind the new law as it went through the legislature. Salvi focuses his practice on representing injured patients and the families of those who have died due to medical malpractice.
The bill, Senate Floor Amendment No. 2 to H.B. 5151, passed through the Illinois General Assembly earlier this month, according to the Madison-St. Clair Record. Governor Pat Quinn signed it into law on Friday, January 18. The new law, Public Act 97-1145, took effect upon the governor's signing.
Attorneys commonly enter into "contingency fee agreements" with clients in personal injury cases. Under these agreements, attorneys do not collect fees for their legal services until the client recovers an award through a verdict or settlement. The attorney's fee then represents a percentage of that award. The agreements are generally seen as a way for injury victims to obtain legal help who might otherwise be unable to afford to hire an attorney.
In most non-medical malpractice cases, the common contingency fee is for 33.3 percent of the award, or one-third. Prior to Public Act 97-1145, however, attorneys in Illinois could not collect that same amount in medical malpractice cases.
Instead, Illinois medical malpractice attorneys could receive only up to one-third of the first $150,000 of an award, 25 percent for the next $850,000 and 20 percent for awards beyond $1 million. To seek fees beyond those limits, attorneys needed to petition a court.
Under the new law, attorneys will now be allowed to collect as much as one-third of a medical malpractice verdict or settlement and will not be permitted to seek court approval for higher fees.
Salvi noted that the new law will not prevent attorneys from entering into contingency fee agreements that are for lower than one-third of the medical malpractice award.
Additionally, the new law eliminates language and sections from the Illinois Code of Civil Procedure that were deemed to be unconstitutional by the Illinois Supreme Court.
About Salvi, Schostok & Pritchard P.C.
Salvi, Schostok & Pritchard P.C. is a leading Illinois personal injury firm with offices in Chicago (22 West Washington Street, Suite 1600, Chicago IL 60602) and Waukegan (218 North Martin Luther King Jr. Avenue, Waukegan, IL 60085). The firm represents clients in matters involving emergency room errors, failure to diagnose, hospital negligence, physician error, birth injuries, surgical malpractice, anesthesia errors, organ puncture/perforation, post-operative and pre-operation malpractice and surgical complications. The firm's success in medical negligence, personal injury and wrongful death cases features recoveries of more than $630 million on behalf of its clients, including more than 180 multi-million dollar verdicts or settlements. For more information, call (312) 372-1227 or use the firm's online contact form.