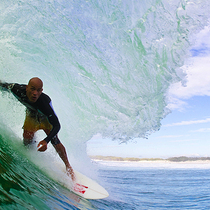 The fact that both Sam and producer Tim Duffy both hail from Western Australia, will ensure that the movie captures the spirit and beauty of the region
(PRWEB) October 18, 2012
In 2011, Margaret River in Western Australia, was the location for the filming of actor Sam Worthington's new movie 'Drift'. A spokesperson for the Augusta Margaret River Tourism Association (AMRTA) believes the spotlight that the movie will shine on the region will boost tourism, and has welcomed the news that the movie's release date will be in early 2013.
"The fact that both Sam and producer Tim Duffy both hail from Western Australia, will ensure that the movie captures the spirit and beauty of the region - that, and the number of locals who will appear as extras" said Simon Ambrose, from AMRTA.
Sam Worthington starred in the Hollywood hit 'Avatar', and starring with him in 'Drift' is Miles Pollard, Tim's partner in the production company World Wide Mind Films.
Popular with surfers for decades, the region is host to the internationally-famous annual Margaret River Pro surfing event, so it was an obvious choice for a movie about Australian surfing.
"We are hoping that the exact Australian release date will coincide with the 2013 event in March" said Mr Ambrose. "We will have the world's surfing elite here at that time."
'Drift' is the dramatisation of the story of the birth of Australian surfing brands, like Quicksilver and Billabong, and as Sam is a surfer, he connected with the story immediately.
"Sam saw that as something very close to his heart and it was set in Western Australia. He's a hometown boy" Mr Duffy told the ABC South West WA. "He's obviously been offered lots and lots of scripts in Australia but this is something very personal for him."
Margaret River is famous for its spectacular landscapes, surfing beaches, whale watching cruises, gourmet food and fine wines, and details are provided by AMRTA at its website, MargaretRiver.com
About AMRTA and the Margaret River Visitor Centre
The Augusta Margaret River Tourism Association (AMRTA) is a self-funded, not for profit, membership-based organisation that represents more than 500 local tourism businesses. The Association is an innovative and cohesive organisation with high values fostering excellence in sustainable tourism, visitor servicing and destination promotion. A nine-member Committee of Management elected by the membership oversees operations.
The Association provides information to visitors and bookings for accommodation, tours and attractions. It works closely with its members to provide visitors with a wide variety of activities.
Visitor Centres
We manage both the Margaret River Visitor Centre and the Augusta Visitor Centre, offering a wide variety of services and activities. Our centres welcome over 285,000 visitors per year. Some 300 telephone inquiries are handled by our expert staff each day. Both visitor centres are accredited with the Tourism Council of Western Australia.
For more information visit MargaretRiver.com