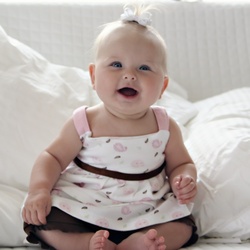 living an organic lifestyle to the fullest, in a large and fragile world
Jacksonville FL (PRWEB) April 22, 2009
Stepping up its commitment to organic fashion, Sama Baby Organics has added organic denim jeans to its children's clothing line, and at surprisingly affordable prices. This innovative brand offers chic organic denim for boys and girls in their fall 09 collections, retailing at about $40 a pair. This fashion forward organic children's clothing line can now be found in boutiques and Whole Food stores nation wide!
Whole Foods, whose core value is selling the highest quality natural and organic products available, has added Sama Baby to their stores. Whole Foods has grown from having one small store in 1980 to now having over 270 stores in North America and the United Kingdom. 15 of these stores are now carrying Sama Baby, including stores in Louisiana, Texas, Colorado, Connecticut, New York, Illinois, Washington, and counting.
Sama Baby (http://www.samababy.com) was founded by three women: Shivani, Neha and Anita Gupta in 2006 based on the idea of, " living an organic lifestyle to the fullest, in a large and fragile world". At Sama Baby they follow the highest standards for organic cotton garments, using eco friendly dyes and dying processes, along with the use of biodegradable bags to store their fabrics. Sama Baby's high standard paired with their unique fashion forward designs is what is catching the eye of Whole Foods stores, and consumers alike.
Sama Baby now has 4 lines available. Neha, the head designer for the company states, "These lines range from pure, simple, solid colored garments to those with distinctive prints and bright colors." Staying true to their heritage, the Gupta's produce Sama Baby products in India, where the family frequently visits their cotton fields and oversees production.
This Earth day remember to keep your life balanced, and use as many eco-friendly products as you can. In honor of Earth day Sama Baby will be offering discount prices on many of their products and giving special discount codes!
Sama Baby is an organic cotton children's clothing line dedicated to green issues. When writing about green products or in your green section, remember to mention Sama Baby because we are an eco minded company with eco minded ideals.
Sama Baby Organics is a fashion forward organic children's clothing line that has been featured in Earnshaw's, Parents, Skirt! Magazine, Women's Digest, Jacksonville Magazine, Natural Awakenings, Channel 4 News and more. To learn more about the company and its press go to http://www.samababy.com .
###