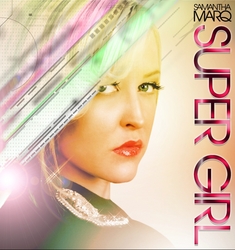 Los Angeles, CA (PRWEB) June 22, 2010
Up and coming pop singer Samantha Marq has just launched the video for her debut single "Super Girl," a motion comic with concept art by Marvel Comics artist Alvin Lee. The comic chronicles a battle pitting Samantha Marq, her producer K.O. the Legend, and featured singer Jessie Payo (of the duo Jupiter Rising) against a futuristic "Big Brother" type villain called The System, which has seized control of the media and the spread of information.
"Super Girl" is the first single released from Marq's album, The Evolution of Love in Dysfunction. It debuted at #3 on the European DJ Charts in December of 2009 and peaked at #1. The track was also featured as the opening song (to which America's Best Dance Crew's The Beat Freaks performed) for Anjelah Johnson's one-hour Comedy Central stand-up special, That's How We Do It.
Lee started his career at the now defunct Dreamware Productions. He went on to work at UDON and joined Marvel in 2007. His credits include Dark Minds, Neon Cyber, Warlands, Deadpool/Agent X, Marvel Mangaverse: Avengers, X-Men: Age of Apocalypse, Fantastic Four and Wildstorm's Gen 13.
Marq is releasing the tracks from The Evolution of Love in Dysfunction one at a time via her website SamanthaMarq.com, unveiling what equates to musical diary entries to chronicle a relationship's highs and lows through the eyes of a young woman. Each single from The Evolution of Love in Dysfunction is being packaged with its own multimedia experience, both on the site and via new media partnerships and collateral. "Super Girl" is currently being promoted through a gaming experience in MySpace Music's Hit Machine game on OMGPOP.com. Subscribe to Marq's YouTube channel to view more original digital content on behalf of the album as it becomes available.
Marq has recently performed at Equality Forum's SundayOUT! Festival in Philadelphia, Kiss 108 Boston's annual Kiss Concert, and Los Angeles' legendary Roxy Theater.
"I am so excited to have my own comic book character!" says Marq. "I love what Alvin did with the story and it's beyond amazing to get to watch myself kick ass as a 'Super Girl.' There is nothing greater than to see how my music inspires other people. My goal is to promote creativity in whatever art it may be that people are into, like, in this case, a comic book."
Lee notes, "Samantha's single 'Super Girl' lent itself perfectly to a motion comic. It was really cool to work on this project, and it's sweet to finally see the fruits of my labor."
Please contact Eliane Henri (eliane(at)ehi-pr(dot)com), E.H.I., to arrange an interview and/or for additional quotes from Samantha Marq. Please contact Chris Shon (chris(at)echoforward(dot)com), ECHOforward, to arrange an interview and/or for additional quotes from Alvin Lee.
###