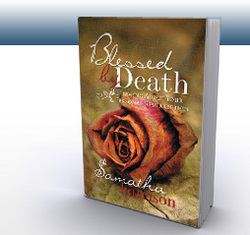 milk and honey flow through the fire
New York City, NY (Vocus) August 18, 2009
Most people get so caught up in living their lives that they don't often think that they can improve their way of life on a permanent basis. They don't reflect on things that can and ultimately change. Samatha Harrison writes on how readers could improve all areas of life. She takes life and death to a higher level. She uses scriptures and real life experiences giving examples of breaking through barriers. Challenges are exposed; real situations are discussed along with the power that is found in words and scriptures.
Like every writer, Samatha had her obstacles to overcome in writing this book. "The most difficult was providing understanding in the word 'death'. It is more than so many commonly view it." The word death in " Blessed By Death" is merely an understanding and accepting promises received from the higher force in exchange for His death. There is life in death. Additionally, death is explored as new opportunity for new encounters new life. One other obstacle Samatha encountered was explaining that detachment on the physical realm is emotional and sometime physical pain that has to be dealt with. She shows ways of dealing with that pain through truth. She motivates individuals to get in touch with unquestionable values disregarding selfishness.
She has already started and nearly finished her next book called, "Gimmie, Gimmie, Gimmie" the premise of which is living a prosperous life on earth. She discusses the powers as promised and how to succeed no matter what. It doesn't matter the physical world threatens with. It provides real life situations in which "color" overcame challenges and obstacles; would not be denied wealth regardless of time. "Old Money"! These books both tell of overcoming obstacles, beginning life anew, and improving from there. A reader would not want to trade one book for the other both have valuable first hand experiences beginning "yesteryear". Both books offer truth and strength into one's self and a better way of accepting life no matter who you are.
Samatha stresses to her readers there are blessings that wait on the other side of the barrier. The challenge is to break down all barriers and let the life of "milk and honey flow through the fire".
Samatha says, "I was motivated to write my first book by the fact that we are all connected to our past. I was also motivated by the fact that life in one place is so similar to life in another. Location or place does not separate us from the body. We are one. I am every woman and every woman is me. Our experiences are similar and our joys are similar. More important, I need my readers to know there is an answer and they can discover it for themselves in "Blessed By Death" and "Gimmie, Gimmie, Gimmie". Lastly, she was motivated by the death of her mom who was the wind beneath her wings. "I am author, speaker, conference leader and educator - I am Samatha Harrison making a change one day at a time, one person at a time."
To order books, go to or order online from any major bookstore or you may order at http://www.blessedbydeathbook.com. Additional contact information is available at the end of the book as well.
Contact:
Samatha Harrison
646-288-2849
###