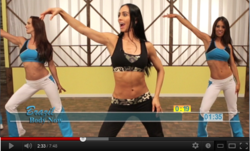 Samba and Latin dance do what many other forms of exercise can't. First, people love it. So they stick with it. That's one of the biggest problems with most exercise.
Los Angeles, California (PRWEB) January 09, 2013
Participants in one of Katia Luna's classes quickly learn how fast an exercise session can fly by. With her unique brand of high energy, Brazilian based fitness moves, and the exotic beats of the live Samba players coaxing you along, dancers barely notice as they burn up to 700 calories in one session.
It wasn't long ago that Katia's unique flavor of fitness became the buzz of L.A. And now her samba fitness workouts are about to take the nation by storm.
Katia's just released Brazil Body Now; a comprehensive Samba and Latin Dance influenced fitness program on DVD. Now, no matter where new members of the Samba Fitness community live, they can get the same results as her L.A. based clients.
"I've had people ask me for years to put something together to use when they couldn't get to my studio. But until recently, I didn't have the time to put together a DVD program that effectively captured the techniques I teach live. And I refused to put out something that would fall short of getting women the results they're looking for. "
When Katia first moved to California from Brazil, she had no idea she'd eventually start a fitness revolution. "Those were crazy times back then. I came out to broaden my opportunities. I'd already been a featured dancer in Carnaval many times. I was ready for the next challenge. To try something new."
Now, 20 years and 52 dance championships later, she's prepared to take on her next challenge. She's switching from using her rapid-fire Samba moves to entertain on the stage, and using them take on the issue of obesity in the U.S. The latest figures from the U.S. Centers for Disease Control and Prevention National Health and Nutrition Examination Survey states that 36% of adults and 17% of children in the U.S. are clinically obese. The figures also state that 70% of American adults and 36% of children are overweight.
"When I read those statistics I was blown away. When I was growing up in Brazil, it was rare to see anyone overweight. The lifestyle is very active over there. But people aren't exercising like they do here in the U.S. They have fun being active. Music is everywhere and everyone is always dancing. No one thinks 'ok, now I need to exercise'. We were all constantly exercising through our dance. From little children to men and women in their 70's." It's this attitude of fun, along with Katia's infectious enthusiasm to get her students moving, that's drawn so many people to her classes. But it's the results her students get, from head to toe, that's made Katia a prominent fixture on the L.A. fitness scene.
"Samba and Latin dance do what many other forms of exercise can't. First, people love it. So they stick with it. That's one of the biggest problems with most exercise. People do it because they feel they should, not because they want to. That just never works out long term."
"The other thing is, many of the popular weight loss programs(both diet and exercise) cause women to lose muscle as well as fat. When you lose muscle your metabolism slows down and makes it harder to burn off fat cells. So when you stop doing your weight loss plan and go back to living your normal life, your fat quickly comes back because you have less muscle to burn it off. You end up in worse shape than you were before."
"With dance oriented workouts, especially Brazilian and Latin dance, you not only burn tons of fat and calories, but you also build long lean muscles. Just take a look at the professional dancers on 'Dancing With The Stars'. They are very lean but muscular. It's that muscle that keeps there fat percentage so low. And it's what helps so many of their guest celebrities lose so much weight."
From "Dancing With The Stars" participant Kelly Osborne's reported 40 lb weight loss, to Kristi Allie shaving off 38 inches before opening night, there's no doubt about the benefits of dance. But Katia says there's still one more component that few people realize when it comes to dance.
"The thing I love most about dance is, the more you do it, the better your workout will be. When you first begin, you're getting used to the moves. Your body responds by dropping weight and toning up because it's doing something new. Then, as you become more familiar with the moves, your body becomes more engaged. Smaller stabilizer muscles come into play. Your body becomes harmonious with the movement and takes your fitness to a higher level. And it keeps going like that. It never stops."
It appears Katia's found her new calling. She's been getting emails from women across the U.S. who participated in a test run of her DVD fitness series earlier in the year.
"I'm getting as big of a thrill hearing about their success as I've ever had on stage. I love the idea that I'm able to help more women than I ever have before."
So, when folks hear a catchy Samba beat and the sound of laughter floating from a neighbor's window this winter, it may not be just a wishful daydream of a warmer, more exotic place. It'll likely be someone getting the body transforming impact of Katia Luna's Brazil Body Now program.
To learn more about Brazil Body Now at http://www.brazilbodynow.com