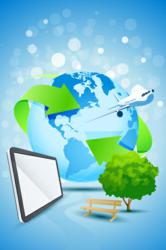 Customers are surprised when they find out they can fly the same day as they apply
Norfolk, VA (PRWEB) November 05, 2012
Exchange USA Military Travel Services offers flexibility, announcing same day travel financing for Active Duty and Career Retired US Military and US Civil Service Members. Customers can feel more at ease when dealing with unexpected but necessary flight needs as experienced travel services team delivers accelerated service to get customers to their destination. In addition, multiple direct industry links provide access to discount military airfares, especially critical when flights are booked on short notice.
The company is able to complete the entire application and approval process electronically, utilizing completely paperless loan processing systems. This enhanced capability allows plane ticket financing for the same day of departure. No one ever knows when an emergency near or far may happen, but when it does, Exchange USA offers a practical solution to assist in this stressful environment. Active Duty and Career Retired can depart on the same day with the peace of mind knowing the military loan process removes the need for immediate out of pocket costs. Payments do not occur until after their flight is completed allow greater financial freedom during their travels. Worries about booking and travel expenses can be offloaded to the expert customer service team, available to complete the booking process from application to flight confirmation.
"Customers are surprised when they find out they can fly the same day as they apply, most often with no cash down and payments beginning after the trip. This is a convenience that not only decreases the anxiety that comes along with booking an immediate trip but also keeps cash in the pocket of service members to spend while away," says Alonzo of the Travel Service Team. No matter the destination or circumstance, the the military airfare can be financed not only for the service member, but also for family and friends. My Military Travel offers flexibility in more ways than one including flight options, travelers, and payment arrangements.
It can be difficult to prepare for an unexpected trip no matter the cause. Figuring out where to go, when to go, and how to get there can be the hardest part of it all. US Military Service Members and US Government Civil Service can feel assured that when they need travel immediately, they have an option at their fingertips. Customer service is a high priority, the travel team expedites the approval and booking process with urgency and professionalism. Travelers can expect a smooth transition from point of application to confirmation of the flight on the same day.
The company recommends customers begin planning early to take advantage of lower rates and greater flexibility in flight choices for the holidays. The earlier the travel date, the less seats are available- and the more expensive the fare. Even with military flight discounts, the fares available with short turn around can be dramatically higher than those planned more in advance. Procrastination does not pay, Exchange USA recommends customers begin by requesting a discount flight quote for holiday travel today. Recognizing short notice travel needs can increase the fare for a specific trip, the company is offering to eliminate military travel booking fees through the end of the 2012.
About the Company:
Established in 2009 and based in Norfolk, VA, Exchange USA Military Travel Services provides exceptional travel planning services to US active duty and career retired. Exchange USA also provides secured travel loan processing for US Government Civil Service and US Postal workers. Worldwide capability allows travelers service all over the earth; providing military travel solutions regardless of duty station. The company can be reached by phone: 888 998 9963, email fly(at)mymilitarytravel(dot)com or web at http://www.mymilitarytravel.com