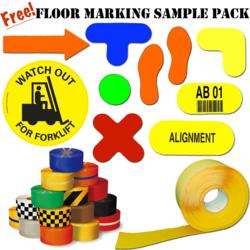 "I truly believe that Superior Mark brand floor tape is the most durable on the market," says owner Cliff Lowe.
Wake Forest, NC (PRWEB) January 31, 2012
Aisle marking tapes are a better way to mark warehouse floors than painting. Every section of the floor has different needs according to the amount of traffic it experiences. Stop-painting.com carry a large selection of the best aisle marking tapes on the market. Superior Mark is the most durable aisle marking tape and the best option for areas with heavy traffic. They offer free samples of all aisle marking tapes. This is a chance not to be missed since there are limited supplies only.
Also check out their other floor marking tape and floor safety tape collections. With over 300 floor tape selection it can convey traffic on parking lot, outlines aisle in a warehouse and provide safe environment in an industrial facility.
"I truly believe that Superior Mark brand floor tape is the most durable on the market. When you receive your samples, you will see the difference. If you're not satisfied with your first roll, I'll give you 100% of your money back. Guaranteed." says Cliff Lowe, Managing Director of InSite Solutions and creator of Superior Mark.
InSite Solutions is the manufacturer of Superior Mark aisle marking tape. InSite specializes in floor marking solutions that increase safety, organization, and efficiency in the workplace. They offer Superior Mark and a variety of other traffic control solutions for sale on their ecommerce website, stop-painting.com.
Contact Details:
InSite's selection of workplace safety and traffic control solutions are available for sale at their ecommerce website, http://stop-painting.com/. Please contact Cliff Lowe for additional information. The telephone number is 1-866-284-1541 and email is customer-service(at)stop-painting(dot)com.
# # #