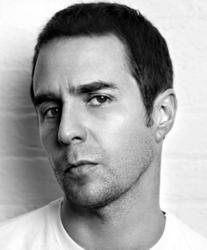 Sam's breadth of experience makes for a vital and engaging start to the 2013 Digital Filmmaking Studio Lab season
Sarasota, FL (PRWEB) February 07, 2013
Ringling College of Art and Design today announced that actor Sam Rockwell will be the first guest for the launch of the fourth season of the College's Digital Filmmaking Studio Lab on February 19th and 20th, 2013.
Rockwell's recently released work includes 'The Way, Way Back' opposite Steve Carell, Toni Collette, Maya Rudolph, Rob Corddry and Amanda Peet and the black comedy 'Seven Psychopaths' opposite Colin Farrell, Christopher Walken and Woody Harrelson. Rockwell was last seen starring opposite Christopher Walken in Martin McDonagh's critically acclaimed production of "A Behanding in Spokane" on Broadway and on screen opposite Harrison Ford and Daniel Craig in Jon Favreau's "Cowboys and Aliens."
Also in the pipeline for Sam is the feature, 'Better Living Through Chemistry,' opposite Jane Fonda, Olivia Wilde, Ray Liotta, Michelle Monaghan, and Judy Dench and 'A Single Shot,' opposite William H. Macy, Jeffrey Wright, and Melissa Leo.
Throughout his career, Rockwell has created memorable characters in films, including Tony Goldwyn's "Conviction" opposite Hilary Swank, Jon Favreau's "Iron Man 2" opposite Robert Downey Jr.; Duncan Jones' "Moon"; Andrew Dominik's critically acclaimed film "The Assassination of Jesse James by the Coward Robert Ford," starring opposite Brad Pitt and Casey Affleck; David Gordon Green's acclaimed film "Snow Angels," opposite Kate Beckinsale; the Russo brothers' comedy "Welcome to Collinwood," opposite George Clooney, Patricia Clarkson, Jennifer Esposito and William H. Macy; David Mamet's "Heist," opposite Gene Hackman, Rebecca Pidgeon and Danny DeVito; the blockbuster "Charlie's Angels," with Drew Barrymore, Cameron Diaz and Lucy Liu; and Frank Darabont's Oscar®-nominated "The Green Mile," opposite Tom Hanks. Rockwell also appeared in DreamWorks' box-office hit "Galaxy Quest."
"Sam's breadth of experience makes for a vital and engaging start to the 2013 Digital Filmmaking Studio Lab season," said Ringling College president, Dr. Larry Thompson. "Our ability to attract top-tier Hollywood talent continues to grow and we have an exciting slate of talent, directors and producers working with us this year. We are also pleased to announce that Andie MacDowell, who was previously scheduled to open the Studio lab season, will be joining us here on February 23rd and 24th."
"The Ringling College Digital Filmmaking Studio Lab has been integral to forging alliances with Ringling College and its students with film industry luminaries," said Sam Logan and David Shapiro, cofounders of Future of Films and partners with Ringling in producing the Digital Filmmaking Studio Lab. "We are well along in our goal of building a production placement program for Ringling students and graduates and our ongoing collaborations with Forest Whitaker and Werner Herzog have been successful first steps and we plan on rapidly expanding this initiative over the rest of the year."
The Ringling College Digital Filmmaking Studio Lab has brought many Hollywood luminaries to Sarasota to work directly with Ringling Digital Film students over the past three seasons. The 2012 season featured Elijah Wood, Forest Whitaker, Edward Burns, James Woods and Whit Stillman. During the 2012 season Ringling students also worked on feature film productions including Anna Paquin's film "Free Ride" and "Spring Breakers" directed by Harmony Korine and starring Selena Gomez. Master classes prior to 2012 have featured Werner Herzog, Bill Paxton, Martha Stewart, Andy Garcia, Paul Schiff, Oren Moverman, Ben Foster, Ed Carrol and others.
Combined with the strength of Ringling College's Digital Film Program, students are not only learning the art and mechanics of visual storytelling but they are also getting guidance and encouragement from leaders in the entertainment industry as part of their core curriculum.
In almost all cases, visiting film industry lecturers have focused on the importance of 'story' in the production process – a core component of the Ringling Digital Film curriculum. As Forest Whitaker stated during his time at Ringling, "Honestly, you can make a movie and you can tell a story. It is possible, it's more than possible - you can do it, it's just a question of having the fortitude to push it forward..."
Future of Films leverages unique opportunities in media production and content, focusing on convergences between traditional and new media. Co-founders Sam Logan (Sarasota) and David Shapiro (New York) are bringing to bear their extensive relationships in the film and TV industry to continue to grow the Ringling Digital Filmmaking Studio Lab, a groundbreaking project that combines education with film development.
About Ringling College of Art and Design
Ringling College of Art and Design is a private, not-for-profit, fully accredited college offering the Bachelors of Fine Arts degree in 13 disciplines: Advertising Design, Computer Animation, Digital Film-making, Fine Arts, Game Art & Design, Graphic Design, Illustration, Interior Design, Motion Design, Painting, Photography & Digital Imaging, Printmaking, and Sculpture, and a Bachelor of Arts degree in the Business of Art & Design. Located in Sarasota on Florida's Gulf Coast, the picturesque 48-acre campus now includes more than 110 buildings, and enrolls 1,368 students from 44 states and 53 countries. It is recognized as being among the best and most innovative visual arts colleges in the United States as well as a leader in the use of technology in the arts. http://www.Ringling.edu