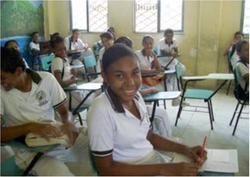 When you buy Fair trade bananas at Sam's Club, you are helping to keep the dreams of girls like Jhojaneth alive.
Bentonville, AR (PRWEB) October 7, 2009
In October, 2007, Sam's Club became the first mass-market retailer and membership warehouse club in the U.S. to offer Fair Trade Certified bananas. Since that time, Sam's Club has expanded its Fair Trade banana program from one to three distribution centers and member purchases of product have generated more than $615,000 in community development funds. Each box of Fair Trade bananas purchased by Sam's Club members contributes $1.00 that goes directly to farmworkers who decide upon, manage and directly benefit from community development projects.
In addition to life-changing social programs funded through the $1.00 per box premium, Sam's Club payment of a fair, above-market price to farmers allows them to pay for environmental improvements required by Fair Trade standards. Sam's Club purchases have allowed farmers in Colombia to eliminate over 422,000 gallons of herbicide preparations each year, protect rivers with natural barriers, and eliminate the most toxic pesticides.
Paul Rice, CEO of transFair USA, tells the story of how the Sam's Club Certified banana program has helped Jhojaneth, a 13 year old Colombian girl, who hopes to be the first in her family to finish high school. "I met this 13-year old girl on a banana farm last year in Columbia - her family is very poor, and her mother works on a banana farm. In the past, Jhojaneth would never have been able to dream of finishing high school. Now, she is one year away from finishing high school, thanks to a scholarship program that is funded by Fair Trade banana premiums." Paul continues, "When you buy Fair trade bananas at Sam's Club, you are helping to keep the dreams of girls like Jhojaneth alive."
In support of Fair Trade month and to celebrate its expanded Fair Trade Certified banana program, Sam's Club will be offering free samples of Fair Trade Certified bananas Friday, October 9 and Saturday, October 10. Fair Trade Certified Bananas are available in some Sam's Club locations in the following states: Alaska, Arkansas, Colorado, Delaware, Idaho, Illinois, Indiana, Kentucky, Maryland, Mississippi, Missouri, New Jersey, New York, Pennsylvania, Tennessee, Washington, Wisconsin and Utah. (Please note: For a list of specific club locations, please see the PDF file attached in the right hand column of this press release.)
Sam's Club also offers Fair Trade Certified coffee, wine and flowers.
About Sam's Club
Sam's Club is a division of Wal-Mart Stores, Inc., (NYSE:WMT). The first Sam's Club opened its doors in Midwest City, Oklahoma in 1983. Today, Sam's Club serves more than 47 million U.S. Members with locations nationwide, and in Brazil, China, Mexico and Puerto Rico. Sam's Club offers exceptional values on merchandise and services for business owners and consumers. Online merchandise and club information is available at http://www.samsclub.com.
About TransFair USA
TransFair USA is the only independent, third-party certifier of Fair Trade Certified™ products in the United States. TransFair USA audits and certifies transactions between U.S. companies offering Fair Trade Certified products and their international suppliers to guarantee that the farmers and workers producing Fair Trade Certified goods were paid fair prices and wages. TransFair USA certifies coffee, tea, herbs, vanilla, cocoa, chocolate, rice, sugar and bananas. For more information, visit http://www.FairTradeCertified.org.
###