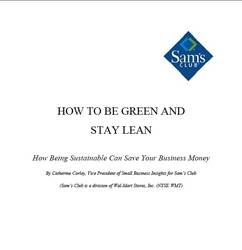 How to Be Green and Stay Lean: How Being Sustainable Can Save Your Business Money
Bentonville, AR (PRWEB) September 23, 2009
The continuation of Sam's Club commitment to help small business save money now comes in the eco-friendly form of a digital download, available at samsclub.com/smallbusiness, where small business owners can discover how going green not only benefits the environment, but also their bottom line.
The first of a multiple-topic whitepaper series, Sam's Club vice president of Small Business Insights, Catherine Corley, led the development of a whitepaper specifically to teach small business owners how to incorporate greener practices into their business.
"Small-business owners are navigating through the complications of trying to run a socially responsible business on limited budgets," said Corley, who recently spoke on the topic of "greening your business" at the Women Presidents' Organization and the National Association of Women Business Owners events. "In this article, we aim to provide them with information and resources so that they can successfully make their businesses more environmentally sustainable without sacrificing profits."
The whitepaper, titled "How to Be Green and Stay Lean: How Being Sustainable Can Save Your Business Money" covers topics such as:

The Definition Of A Green Business
Being Green In Today's Economy
How Being Green Positively Affects Your Bottom Line
How To Avoid "Green Washing"
Tips To Get Started Being Green
For small business owners interested in learning about going green, an excerpt of the whitepaper is attached to this PDF; for the full, free downloadable version, surf over to Sam's Club News You Can Use (http://www2.samsclub.com/smallbusiness/pressRelease/)
Call
Have questions about how Sam's Club can help your business find savings solutions? Call us!
1.800.SAMS.CLUB (1.800.726.7258)
Click
Surf over to http://www.SamsClub.com/smallbusiness and join the growing community, of small business owners just like yourself and learn about what others are saving with Sam's Club.
Visit
Visit your local Sam's Club today to discover your small business savings opportunities
For more information on Sam's Club Smart Business Savings Solutions
http://www2.samsclub.com/smallbuisness
Please direct all inquiries to:
Susan Koehler
800-331-0085
###