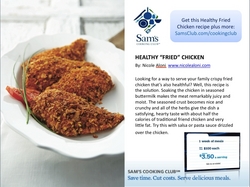 You just can't beat that.
Bentonville, AR (PRWEB) August 24, 2009
Sam's Club is the focus of a segment demonstrating the benefits of co-op cooking on Lifetime Network's morning news program the Balancing Act, Tuesday, August 25 at 7 a.m. EST. The show features chef and author Nicole Aloni alongside three moms interested in learning how to gather, prepare and share nutritious meals for their families.
Aloni, who has helped start several cooking clubs, says the cooking club 'recipe' is simple. "I have found the best way to do this is to plan a menu of seven main courses and seven side dishes that balance each other." Nicole explained. "You don't have to be trained chef to make the cooking club concept work - everyone in the group can play a role, from shopper to prep cook. Meanwhile, you are enjoying the company of friends while doing something good for your family."
Cooking Clubs typically include three to four friends or family members who pool their money to purchase the ingredients for a week's worth of meals. They then gather at the host's kitchen and prepare everything in a few hours. "It's a wonderful way to connect with your friends, and, for under one hundred dollars you've got a week's worth of meals for a family of four," continued Aloni. "You just can't beat that."
Don't miss Nicole and friends on Lifetime Networks' The Balancing Act, Tuesday, August 25 at 7 a.m. EST. Watch to learn how cooking clubs help families save money while still providing great, wholesome meals the entire family will love. Additional airdates include Sept. 1 and Sept. 10 at 7 a.m. EST on Lifetime.
Want to start your own cooking club? Now you can!
Visit Sam's Club What's Cookin' online to get started! It's quick and easy - you'll be up and cooking in no time!

View how-to videos
Download meal planners
Find new recipes
Plan a week's worth of meals in minutes
Plus more helpful resources that get you cooking quicker
Get your Cooking Club started with Sam's Club
Sam's Club is hosting events in some clubs to help its members start cooking clubs and is offering customized recipes, tips, shopping lists and suggestions on serving and storage online at samsclub.com/cookingclub. On average, the cost is less than $3.50 per serving and includes shrimp, sirloin steak, chicken enchiladas to pork tenderloin. Sam's Club has added a few new recipes including healthy fried chicken.
Connect with Sam's Club on The Web!

Call
Have questions about how Sam's Club can help you start your cooking club? Call us.
1.800.SAMS.CLUB (1.800.726.7258)
Click
Surf over to http://www.samsclub.com/cookingclub to find more ways you can save money on your family meals!
Visit
Visit your local Sam's Club today to discover new cooking club recipes!
Please direct all inquiries to:
Susan Koehler
800-331-0085
###