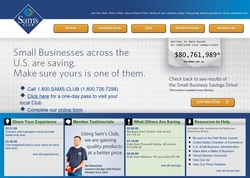 Bentonville, AR (PRWEB) April 15, 2009
As part of the Sam's Club Small Business Savings Drive, entrepreneurs, solopreneurs and small business owners alike are encouraged to visit Sam's Club new small business resource site at samsclub.com/smallbusiness to participate in the launch of the warehouse club's Small Business Savings Drive, where the company has pledged to help 100,000 small business find $270 million in savings via cost comparisons. Since the campaign began earlier this month, more than 14,000 small business owners have discovered more than $26 million in savings.
At Sam's new Small Business Resource Site, small business owners will find an online cost comparison tool, helpful savings tips, and other small business resources. Most importantly, they will find a complimentary one-day membership pass to test-drive Sam's Club small business savings in person.
Sam's Club specializes in serving small businesses with time-saving services and solutions - to date, millions of small businesses including restaurants, convenience stores, day care centers, offices and other professional service providers have taken advantage of Sam's Club affordable add-on small business offerings such as health insurance and merchant credit card processing.
Have questions about how Sam's Club can help your business find savings solutions? Call us.
1.800.SAMS.CLUB (1.800.726.7258)
Talk To Us!
Are you a Small Business owner, operator, manager or employee? Sam's Club wants to hear from you! Share your best tips online with the Sam's Club Small Business Community at SamsClub.com/smallbusiness
Click
Surf over to SamsClub.com/smallbusiness to sign up for your personalized cost comparison, download your complimentary one-day membership pass and get great savings advice from small business owners just like yourself.
Visit
Visit your local Sam's Club today to discover your small business savings opportunities.
For more information on Sam's Club Smart Business Savings Solutions
Sam'sClub.com/smallbusinessPlease direct all inquiries to:
Susan Koehler
800-331-0085###