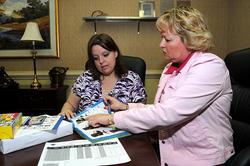 In visiting small businesses, we have found many are hunkering down, cutting out unnecessary expenses and trying to manage their cash flow
Bentonville, AR (PRWEB) April 30, 2009
Sam's Club 2009 Small Business Savings Drive is gaining momentum as hundreds of Sam's Club associates are reaching out to small business owners nationwide to help them identify cost-savings solutions.
Since the savings drive launch earlier this month, Sam's Club has helped nearly 30,000 small businesses identify $55,654,494 in savings potential. Year to date, more than 60,000 small businesses have taken advantage of the free cost comparison service, resulting in $126 million in savings.
"In visiting small businesses, we have found many are hunkering down, cutting out unnecessary expenses and trying to manage their cash flow," shared Catherine Corley, Sam's vice president of small business. "With revenue falling, lowering their (small business) costs is really the only thing they can control right now."
As Sam's Club Associates visit small businesses nationwide to perform cost-savings comparisons, business owners are surprised to find unexpected ways to save on every-day items. For example, a real estate office in Tulsa, Oklahoma, was paying 5 cents apiece for 12-ounce foam coffee cups, Corley stated. Sam's price was 2 cents, helping the company save more than $13,000 a year. A restaurant in Prescott Village, Arizona, will save $2,475.66 a year buying 4.5-ounce chicken breast fillets from Sam's, she added.
Get Started on Your Small Business Savings
Sam's Club is offering free cost comparisons for small business as part of its Small Business Savings Drive, where Sam's Club has pledged to help small business find $270 million in savings. Small business owners can find out more at Sam's Club new small business resource site. To request the free cost comparison service for your small business, submit a cost-comparison request online, or call1.800.SAMS.CLUB (1.800.726.7258).
To visit your nearest Sam's Club, download your free one-day membership pass good through May 25th, 2009, and come visit us! Let us know how we can help your small business.
Call
Have questions about how Sam's Club can help your business find savings solutions? Call us!
1.800.SAMS.CLUB (1.800.726.7258)
Click
Surf over to www2.SamsClub.com/smallbusiness to sign up for your personalized cost comparison, download your complimentary one-day membership pass and get great savings advice from small business owners just like yourself!
Visit
Visit your local Sam's Club today to discover your small business savings opportunities
For more information on Sam's Club Smart Business Savings Solutions
www2.SamsClub.com/smallbusiness.
Please direct all inquiries to:
Susan Koehler
800-331-0085
###