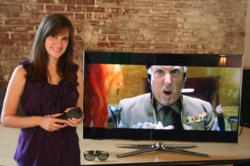 Both of these TVs were standout performers for 2011 and will continue to be sold until well into 2012
(PRWEB) December 16, 2011
Phil Conner reviews of these two TVs, taking them through their strides to come up with a clear winner. Both TVs scored very high in testing results with the PN51D8000 presenting extremely film-like picture, while the UN55D8000 had extreme brightness, peak whites and contrast levels. The shootout review comparison of the two included 12 testing categories including value, audio, calibration, side angle viewing, menu system and remote controls, features, and picture characteristics like black levels, contrast, color, brightness, and screen uniformity. Read the comparison and see the winner at Samsung LED TV vs. Samsung Plasma TV review.
CEAG's editors report that both of these TVs were standout performers for 2011 and will continue to be sold until well into 2012. Further commentary by Phil Conner state that both of these top tier TVs are jam packed with features such as Samsung's fun QWERTY keyboard two side remote control and the accompanying full web browser for total freedom with the TVs Internet capabilities. The review of the Samsung Plasma TV top end PND8000 lists a possible explanation for the TVs lower measured post calibration contrast ratio. "It's an unusual occurrence in the television world to see a decrease in contrast," stated reviewer Robert Wiley. "Nevertheless, the picture is one of the finest of 2011/2012." Following is a further excerpt from the review of this exceptional television: "Samsung did make a few changes that hurt the picture quality slightly. The reason for that appears to be energy consumption. A yellow sticker on the TV touts the dollar usage per year at $35 per year. I think I would rather pay an extra dollar a month to get better brightness. As you know, plasma TVs use more power to produce white and light colors. The D8000 has lost some of it's light output and brightness from last year..."
The Samsung LED TV review was equally rated at an impressive 9.25 out of 10 in Robert Wiley's review of the television. According to the review, this television had the most powerful LED back-lighting of any tested in 2011, which result in amazing depth. One important note from the review was to keep the backlight at a reasonable level in order to prevent colors from getting "washed out." The review also points out that this also reduces or eliminates any screen uniformity issues and blooming that the TV might have. Instructions are provided in the review for keeping establishing the optimum setting for Samsung's AutoMotion Plus feature, which seems critical to good performance. Following is an excerpt from the review: "The "soap opera" effect which the Auto Motion Plus feature can produce by eliminating too much natural background blur can be easily controlled. We've found a setting we feel very comfortable in recommending to avoid this potential problem. First, in the Picture Options Menu turn off the Digital Noise Reduction and MPEG Movie Filter features. These features come preset to On with all picture modes. They cause too many motion artifacts and pixelation to recommend."
About Consumer Electronics Advisory Group Inc
Consumer Electronics Advisory Group Inc. operates several premier buying guide websites, including 3D-tvbuyingguide.com, lcdtvbuyingguide.com, among others. Online since 1999, the company provides objective and thoroughly researched information through professional reviews performed by seasoned reviewers. Editors Robert Wiley and Jack Burden have been reviewing televisions since the first commercial plasma TVs hit the market in year 2000. John Wirtz has been calibrating televisions professionally for 10 years. The company adheres to strict testing guidelines using the highest caliber equipment. Company web sites have more than 15 million unique visitors each year in the fast growth consumer electronics industry.
###