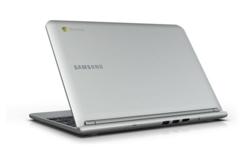 Denver, Colorado (PRWEB) February 21, 2013
Find My Price, a company specialized in tech product reviews, will release the latest deals and tech specs review for Samsung Chromebook 11.6-inch.
The article, which will be published on the company's website, will contain a brief review of the device and the best offers that may be found at online retailers. In the end, editors at Find My Price will present their final verdict in relation to Samsung's new notebook.
According to http://www.FindMyPrice.net the Chromebook is a good device for its category, especially now that the price has been halved. The device features Google's operating system, Chrome so there are many free apps and functions that users can benefit of. Google's Cloud service allows owners to store all their documents on the Internet and freely access them irrespective of their location.
The look of the device is just as fashionable as Samsung has accustomed us from its previous products. Samsung Chromebook is available only in silver and it comes with an 11.6-inch display of 1366 x 768 pixels. While the display is rather large for this category of products, the overall size of the notebook has been significantly diminished; Chromebook measures 11.40 x 8.09 x 0.69 inches and weighs 2.4 pounds.
The small dimensions make the notebook a highly-portable device. It has even been provided with a built-in Wi-Fi connectivity to allow owners to easily connect to available wireless networks. The 1.7 GHz Exynos 5200 processor and the integrated graphics coprocessor have had very good results during the tests performed by reviewers at Find My Price.
The manufacturer stated that the Chromebook has only 2 GB memory size, whereas the storage capacity of the hard drive amounts to 16 GB. Compared to a laptop, this storage capacity may seem small, but Google's Cloud guarantees enough space for additional documents. The battery should last for about 6.5 hours, but its life depends on the type of activity you perform on your notebook (writing documents or watching videos).
Find My Price guarantees that this is the best moment to purchase Samsung Chromebook because its price has been lowered from $500 to $250. The device may be ordered on Amazon or directly on Find My Price's website.
Find My Price is a dedicated e-commerce service provider that aims to deliver accurate and professional tech articles to its readers. New product reviews, recommendations, pros and cons articles and price reports are published each day on the company's online page.