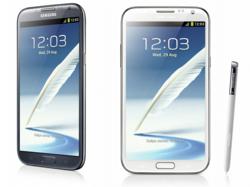 Denver, Colorado (PRWEB) February 19, 2013
Find My Price is currently reviewing the offers available with online retailers for GSM/CDMA smartphones. Part of the series is the release of the review and full tech specs for Samsung Galaxy Note 2 GT-N7100.
At 6 x 0.4 x 3.2 inches and 6.4 ounces and a fast 1.6-GHz Exynos processor, Samsung Galaxy Note 2 is a big screen device that delivers a sort of hybrid experience: half smartphone, half tablet. The device pertains to the buyer interested in fast multitasking, drawing and photo-editing apps, as well as 3D gaming and HD video playback.
The Samsung Galaxy Note 2 GT-N7100 offers a 5.5-inch HD Super AMOLED screen with a 1280x720-pixel resolution, which although looks so big it doesn't make the overall experience challenging for the user.
According to http://www.FindMyPrice.net smartphone runs Android 4.1 and new clever motion-sensitive features such as Direct Call and Quick Glance. The handset works on 4G/LTE speeds on AT&T, Spring, Verizon and HSPA+ speeds on T-Mobile, as well as Wi-Fi, Bluetooth and NFC connectivity.
Battery life is also a perk with Samsung Galaxy Note 2 GT-N7100, enduring for 35 hours on talk time on 2G networks and 16 hours on 3G networks. There are two cameras on Galaxy Note II, a primary 8MP camera (with simultaneous HD video and image recording, geo-tagging, touch focus, image stabilization and face and smile detection) and a 1.9MP front camera.
Find My Price aims is a price comparison service that strives to deliver accurate information and reviews on electronics on a regular basis, to keep buyers informed of the best deals available with online retailers. The website releases regular updates on product reviews and prices as well as discounts to help buyers purchase their desired device at the lowest price. The website features comprehensive reviews that pertain to popular and premium devices, as well as cheap and unknown brands.
Reviews on electronics deliver full tech specs, pros and cons, consumer feedback, potential caveats, flaws in design, performance test results as well as product comparisons. Reviews also take into account most of the selling points buyers are interested in, such as a gadget's OS, brand popularity, price, battery life, Internet connectivity, apps, gaming and video recording performance, camera quality, voice call quality, network coverage, web browsing speeds and so on.