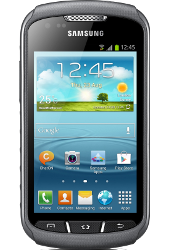 Before You Buy UK brings never before seen deals and offers on adventure-lover's favourite Samsung Galaxy Xcover 2. Now get the latest solid phone from Samsung at unbeatable prices.
Gainsborough, Lincolnshire (PRWEB UK) 29 May 2013
Before You Buy UK has announced unbeatable discounts, freebies and offers on the rugged, solid and yet stylish Samsung Galaxy Xcover 2. This phone is the right fit for people who need a ruggedized phone but don't want to sacrifice smartphone features.
Samsung Xcover 2 runs on the latest Android Jelly bean OS and offers 1GB internal and 4GB external memory. Its camera is also much improved compared to the earlier version making Samsung Xcover 2 a really good rugged smart phone. This Samsung phone keeps dirt and water at bay through its protection class IP67 case. With very few smart phones offering outdoor use feature, there is no doubt that this phone is already very popular in its niche.
Samsung mobiles are already giving a tough competition to Apple iPhone and the new Samsung Galaxy Xcover with its unique features is not even in the competition. With the height of 121 mm and weight of 0.15 kg, this phone is certainly big and heavy. However, users don't complain about its bulk as they find its height and weight an advantage.
Joseph James, the director of Before You Buy UK Ltd., realized the demand for phones in this niche trend and said, "We have always announced best deals and offers from time to time as well as made sure we give the best values, upfront deals and fair contractual agreements. However, so far we have focussed only on popular phones. This time we have discovered a niche for particularly outdoor phones and we are happy to announce our offers on the Samsung's rugged Xcover phone."
"The Samsung and Android combination never goes wrong and if you are an outdoorsy person, then you can certainly not go wrong with this ordinary looking phone with its extraordinary capacity to sustain dirt, grime, water and many more such threats. If you want a phone for work, for play and then for some action, we strongly recommend the smart and strong Samsung Xcover 2 and what's more, with all the deals and freebies going around, there wouldn't be a better time than this to get hold of this phone," he added.
Before You Buy UK is one of the most trusted website for mobile and price comparison. For more information on Samsung Galaxy series of phones, please visit our website http://www.beforeyoubuy.co.uk. Don't forget to check out all the deals and freebies available on Samsung Galaxy phones.