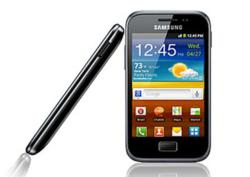 Denver, CO (PRWEB) February 20, 2013
There is a particular interest in the smartphone market for GSM devices, although this involves pricier purchases upfront as opposed to buying a handset from a phone carrier. The overall perk of using a phone in any compatible network has put at the top of Amazon's best sellers for free network phones, handsets such as iPhone 5, iPhone 4, Samsung Galaxy SIII, Samsung Galaxy SIII mini, Samsung Galaxy Note SII and a plethora of BlackBerry devices.
Samsung GT-S7500 Galaxy Ace Plus is Ace's younger and better brother. Samsung addressed most caveats reported for the predecessor and delivered a second Galaxy Ace with a faster processor and more internal storage. Ace Plus is a handset that pertains to the buyers on a budget, the factory unbarred version being sold at $213.50 on Amazon, down from $279.99. But for the affordable price, buyers should know the kind of tech specs they are investing in.
At 4.51 x 2.46 x 0.44 inches and 4.06 oz, Samsung GT-S7500 Galaxy Ace Plus has a small TFT capacitive touchscreen with 16M colors and a 158-ppi pixel density. It packs a 1GHz Cortex-A5 processor with a Qualcomm MSM72227A Snapdragon chipset, coupled with Android OS version 2.3, otherwise known as Gingerbread. The OS is upgradable to Android 4.1 Jelly Bean.
The affordable Galaxy handset features a 5MP camera with LED flash, auto focus and video recording, as well as Internet connectivity via HSDPA networks up to 7.2 Mbps speeds and Wi-Fi. Samsung Galaxy Ace Plus packs a 1.300 mAh battery with endurance up to 11 hours in talk time on 2G networks and 7 hours and 20 minutes on 3G networks.
Find My Price is a leading price comparison service that delivers reviews on electronics, premium and low-cost, popular and unpopular, business or entertainment-oriented. There are reviews released regularly, as well as photos, test performance results and discounts for all kinds of electronics available with online retailers.
Reviews list all important points buyers are interested in when planning IT purchases, including OS, brand, battery life, gaming performance, video and camera quality, Internet speed, network coverage, voice call quality, web browsing speeds, processor, screen quality. Also, reviews for electronics include full tech specs, consumer feedback, caveats, pros and cons, bundle deals, product comparisons and lowest price available at the moment for a particular product with online retailers.
The price comparison service features reviews for tablets, smartphones, chromebooks, laptops, netbooks, Mp3 players, headphones, Roku streaming devices and other electronics