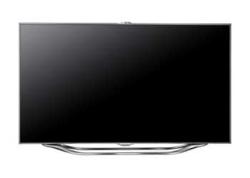 There are hundreds of new models of Televisions being introduced this year at CES right now
Las Vegas, NV (PRWEB) January 11, 2012
CEAG Editors have written detailed features reviews and first impressions about TVs from the CES 2012 show in Las Vegas. "There are hundreds of new models of Televisions being introduced this year at CES right now," States Jack Burden CEAG Contributing Editor. "It looks like there will be at least as many LED Televisions this year as last."
Following are a few TVs the Editors note as fairly typical in the LED category for the year:
Phil Conner and Jack Burden report for the company on some of the new features Samsung has come out with a long list of LEDs to add such as the Samsung UN55ES8000 which they reviewed. "This model has a very powerful edge-lit LED backlighting and a true 240Hz enhanced refresh rate which increases fast motion response time."
The reviewers also note some extraordinary new features and full commentary on the Samsung Plasma PN51E8000 model with very updated design appearance and aesthetic characteristics, a tilt swivel table stand, and less than 1 inch depth and also with exceptional black level performance – possibly the best in the market outside of OLED TVs.
LG's 2012 entries have many new and exciting features according to the authors such as an 84" LED TV with ultra high resolution and a 55" OLED TV with exceptionally thin depth. LG introduced the outstanding LG 55LMG860 Review with model LED HDTV that the editors think will be a hot seller in 2012 with Cinema 3D and the new Google TV platform that could become popular.
Panasonic introduced many new plasma televisions as well as a larger than expected number of LCD and LED televisions. The Panasonic TC-P55VT50 3D plasma HDTV was already named CES Innovations 2012 Design and Engineering Award Honoree. The VT50 series has a new Infinite Black Pro panel that promises even higher black levels than the previous models which were already noted for their strong contrast and black level performance.
Consumer Electronics Advisory Group Inc. operates several premier buying guide websites, including plasmatvbuyingguide.com, and lcdtvbuyingguide.com, among others. Online since 1999, the company provides objective and thoroughly researched information through professional reviews performed by seasoned reviewers. Editors Robert Wiley and Jack Burden have been reviewing televisions since the first commercial plasma TVs hit the market in year 2000. ISF calibrator John Wirtz has been calibrating televisions professionally for 10 years. The company adheres to strict testing guidelines using the highest caliber equipment. Company web sites have more than 15 million unique visitors each year in the fast growth consumer electronics industry.
###