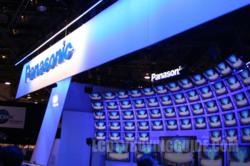 Realistic colors have always been a high point on Samsung's plasma televisions and with the new All Black Pure Filter the E7000 continues that
Las Vegas, NV (PRWEB) January 16, 2012
LCDTVbuyingguide.com and Plasmatvbuyingguide.com editors have written detailed features reviews and first impressions reviews and introductions about TVs from the CES 2012 show in Las Vegas. "Vizio once against stirs the pot and irks other manufacturer's with its further focus and introduction of ultra wide format Televisions in the super widescreen format 2560 X 1080 21:9 ratio. This ratio matches up perfectly with most movies so gets rid of the black bars top and bottom. It also looks pretty cool to have something different," states lead reviewer, Robert Wiley. The company has the review of the huge 71" model Vizio XVT3D710CM on its LCDTVbuyingguide.com web site as well as the other Vizio named CinemaWide televisions. It also has all Vizio LED TV models on the site for 2012 listed on the page of the same name.
The company reports that Panasonic continued with its incredible new LED backlit LCD TV offerings with the Panasonic TC-L55DT50 for which they state, "In the DT50 conversion of 24p content is handled by what Panasonic calls the 24p Cinema Smoother. The 24p cinema smoother takes 24p film content and interpolates extra frames into the content to smooth out the judder sometimes found when showing 24p content on televisions with a base 60 frame rate. 24 does not go evenly into 60 so conversion is handled by the TV's processor."
Editors noted the introduction of the new Samsung PN60E7000 which has many of the same exceptional features as last year. Jack Burden states, "Realistic colors have always been a high point on Samsung's plasma televisions and with the new All Black Pure Filter the E7000 continues that. Colors on the PN60E7000 look like you would expect them to if you saw them off the screen, there is none of the over saturated look you find in many of today's LED and LCD televisions. Some viewers may feel that the colors are a bit muted on the E7000 but we were quite impressed with them."
CEAG editors also reviewed and wrote commentary on the stunning picture quality of Samsung's top of the line LED TV for 2012 the Samsung UN55ES8000. According to Robert Wiley, "It's got loads of extra features including a cool new remote which includes a QWERTY keyboard and Google's new TV search function. 3D viewing is excellent with no visible crosstalk, blurring in the edges or 3D screen uniformity issues. It's also got that very cool styling and super thin screen depth."
Consumer Electronics Advisory Group Inc. operates several premier buying guide websites, including plasmatvbuyingguide.com, and lcdtvbuyingguide.com, among others. Online since 1999, the company provides objective and thoroughly researched information through professional reviews performed by seasoned reviewers. Editors Robert Wiley and Jack Burden have been reviewing televisions since the first commercial plasma TVs hit the market in year 2000. ISF calibrator John Wirtz has been calibrating televisions professionally for 10 years. The company adheres to strict testing guidelines using the highest caliber equipment. Company web sites have more than 15 million unique visitors each year in the fast growth consumer electronics industry.
###