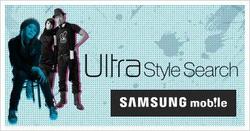 Singapore (PRWEB) March 26, 2009
Samsung Electronics Co. Ltd., a leading mobile phone provider, launched the Ultra Style Search contest in search of the next brand ambassadors of the latest Samsung Ultra Touch mobile phones. The contest is open for application today at its microsite, http://sg.samsungmobile.com/ultranista?cid=sg_admaxplussyndacast_ultranista
Samsung is looking for an Ultra Style Ambassador who embodies a unique sense of style and striking personality that can best represent the latest Samsung Ultra Touch mobile phones.
Samsung's Ultra Edition phones have always been the epitome of form and function. The latest in the Ultra Edition line, the Samsung Ultra Touch, is set to continue that very same legacy of style.
But style is not only about fashion. We're talking about the essence that permeates the way you live, work and play. A style that symbolizes the essence of living true to your hopes and dreams.
The "Samsung Ultra Style Search" is a celebration of this style.
To this effect, Samsung has identified and selected three Ultra Style Icons in fashion lecturer, indie musician and fashion label owner Ginette Chittick, lawyer-turned chef Willin Low and lifestyle journalist Phin Wong - all uniquely stylish in their own right - to help us find this person.
The winner of this search will not only walk away with a Samsung Ultra Touch, but Samsung will also host the winner as a VIP guest in the upcoming Audi Fashion Festival 2009.
Enter the Ultra Style Ambassador competition today.
About Samsung Electronics Co. Ltd
Samsung Electronics Co., Ltd. is a global leader in semiconductor, telecommunication, digital media and digital convergence technologies with 2007 consolidated sales of US$105 billion. Employing approximately 150,000 people in 134 offices in 62 countries, the company consists of two main business units: Digital Media & Communications and Device Solutions. Recognized as one of the fastest growing global brands, Samsung Electronics is a leading producer of digital TVs, memory chips, mobile phones and TFT-LCDs. For more information, please visit http://www.samsung.com.
###