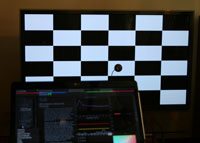 Both of these models received high marks in overall ratings by CEAG editors
(PRWEB) December 21, 2011
For the second consecutive year CEAG's plasmatvbuyingguide.com has conducted a shootout comparison of a Panasonic Plasma TV and a Samsung Plasma TV. According to the editors, this years comparison was conducted using the 2nd tier models from each company to bring value and pricing more to the forefront. The TVs comparison review may be viewed at the Samsung PN51D7000 Plasma TV vs. Panasonic TC-P50GT30 Plasma TV Shootout. Both models in the review were 3D compatible and that is one of the factors affecting the review shootout.
Overall there were 10 categories tested in the shootout including HD picture quality, 3D TV viewing quality, remote control and menu functionality, Value and Price Considerations, Design and Appearance, Internet Options, Audio Quality, Contrast Ratio comparison, Calibration and picture characteristics, and Standard definition picture quality. The reviewers of the shootout were Jack Burden and Robert Wiley.
Both of these models received high marks in overall ratings by CEAG editors with final scores of 8.9/10 for the Panasonic TC-P50GT30 and 9.25/10 for the Samsung Plasma TV even though this did not influence the shootout review outcome.
"Value and Price considerations are very important to consumers now," notes Jack Burden, senior editor. "People are sensitive to value and we want to make sure we are taking price and quality together into account when issuing ratings on the televisions we review." Backing up this claim, all TV reviews on the web sites has a Value ratings section associated with the TV – rated on a scale of 1 – 10.
Consumer Electronics Advisory Group Inc. operates several premier buying guide websites, including plasmatvbuyingguide.com, and lcdtvbuyingguide.com, among others. Online since 1999, the company provides objective and thoroughly researched information through professional reviews performed by seasoned reviewers. Editors Robert Wiley and Jack Burden have been reviewing televisions since the first commercial plasma TVs hit the market in year 2000. ISF calibrator John Wirtz has been calibrating televisions professionally for 10 years.  The company adheres to strict testing guidelines using the highest caliber equipment. Company web sites have more than 15 million unique visitors each year in the fast growth consumer electronics industry.
###