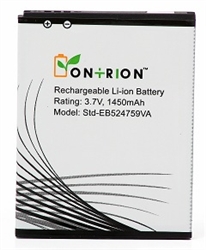 Ontrion latest edition Samsung Galaxy Attain
Dallas, TX (PRWEB) April 24, 2012
OnTrion, the manufacturer of premium OEM-quality mobile phone batteries, has just released a standard battery for MetroPCS's Samsung Galaxy Attain 4G model. Users of the Samsung Galaxy Attain 4G smartphone can maximize their talk, text and data time by keeping a replacement OnTrion mobile phone battery handy at all times.
While manufacturer specs for the Samsung Galaxy Attain 4G list good talk time numbers for its battery life, anyone who has ever gotten addicted to a smartphone's web browsing capabilities knows just how overstated these estimates can be when it comes to data downloading. The best way to overcome this short-lived power-up obstacle and get one's smartphone fix is with a high-quality backup mobile phone battery like the one OnTrion has just unveiled.
For more information on the superiority of an OnTrion mobile phone battery for MetroPCS's Samsung Galaxy Attain 4G versus a generic battery, contact Palki Kochar toll-free at (877)676-0877. To see all the premium smartphone batteries the company manufactures, visit http://www.ontrion.com.
About OnTrion
OnTrion is a veteran manufacturer of branded mobile phone batteries, chargers, Bluetooth and other mobile accessories. The OEM-quality batteries the company produces come in both standard and extended varieties and are compatible with all the latest smartphone models. OnTrion is committed to providing its customers and distributors with the highest-quality products and services, thereby instilling 100% trust, faith and satisfaction in them. As such, innovation, ruggedness and exceptionality are the cornerstones behind every OnTrion product.
Like us on Facebook: http://www.facebook.com/ontrionbattery
Follow us on Twitter: http://www.twitter.com/ontrionbattery
Anyone interested in reviewing our product feel free to contact us.
CONTACT INFORMATION:
Palki Kochar
13650, TI Blvd., Suite #309
Dallas, TX 75243
(877) 676-0877
http://www.ontrion.com