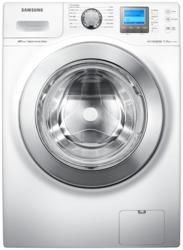 The 12kg drum allows its users to do the whole weeks washing in one load giving you more time to put your feet up.
(PRWEB UK) 4 October 2011
The Samsung Ecobubble available at Appliances Online can wash a staggering 60 lightly soiled t-shirts in one 15 minute quick wash. With energy prices set to rise by £300 next year this is the perfect appliance for those who want their entire load washed in one wash cycle. Even with its massive drum the 12kg Ecobubble is still 70% more energy efficient than other A rated washing machines on the market, yet it has the same dimensions as a standard sized machine. Better yet, this Eco Bubble will cost the average family just £9 on their yearly energy bill.
Samsung Ecobubble WF1124XAC Washing Machine
Price: £880
Dimensions (cm): H85 x W60 x D63
Warranty: 2 years
Energy Rating: A+++
Stockist: http://www.appliancesonline.co.uk
Key Features:

Vibration reduction technology (VRT) – Reduces the amount of vibration in the washing machine while it washes or spins by balancing the drum. This limits the noise made by the machine.
Super Ecobubble wash – Operates at only 15°C without compromising on cleaning results.
Quiet Drive – This innovative feature disposes of the belt and gear system by having the motor attached to the drum, this reduces noise and increases durability.
15m Quick Wash – This wash is great for those who want great results in a short space of time.
Expert Opinion - Lucy Brearley, Appliance Specialist at Appliances Online: "Put simply, the 12kg machine is brilliant because they can hold so many clothes, so there is no chance of overloading and damaging your machine which is so often the demise of household washing machines. The large drum also protects your clothes as it gives them more space to move around preventing creasing, tangling and knotting. But above all the 12kg drum allows its users to do the whole weeks washing in one load giving you more time to put your feet up."
###