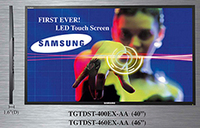 First Ever LED Touch Screen!
Chicago, IL (PRWEB) July 16, 2010
Tech Global is known for integrating their cutting-edge, high-performance touch technology into leading OEM brands like Samsung, NEC, LG, Dell & HP. Our technology partnerships with these leading brands assures a top quality product that is backed by the manufacturer. In addition, Tech Global offers custom "Interactive" digital signage software to help gather and provide information about your company, product and or service.
The TGTDST-400EX-AA & TGTDST-460EX-AA are an incredible 1.6" thin with a seamless integrated high-performance touch system.
Touch Screen Performance:

Fast accurate, repeatable touch
Excellent light transmission with 92% Optics
Chemically-Strengthened glass with anti-glare
Input flexibility from finger or stylus
Glass construction with 7-Hardness
Touch operation is unaffected by surface contaminants
Available for display sizes 40" to 46"
Tech Global products are UL Certified
Features and Benefits:

10,000:1 Dynamic contrast
120 Hz High speed video
LED backlight technology (reduce energy consumption (from 30 - 50%)
1.6" ultra-slim design and reduced weight
Commercial FLD panel technology for 24/7 usage
Video walls
Landscape and Portrait orientations
Media Player: EX(n) series (Internal): Exclusive MagicInfo™ Pro and MagicInfo™-i Software a web-based
server, allowing you to access, control and upload content to your displays from anywhere

Multi-display control and daisy chain
1,080 Full HD
Applications:

Interactive Digital Signage
Hospitality
Way finding
Kiosk information system (KIS)
Product Selectors
Corporate Directories
Wayfinding
Medical (ADA)
Mission Critical
Menu Boards
Retail
Menu Boards
The Samsung 400EX LED LFD boasts the world's thinnest screen at just 1.6" deep making it the lightest and most energy efficient professional displays available. As the LED leaders in professional displays the world, Samsungs 1st LED LFD has been the most eco-friendly product, enabling users to feel cutting-edge high technology but reduction of total cost operation. The 120Hz panel refresh rate allows faster scrolling of text, dynamic contents playing. Full HD 1080p for the highest resolution images and rich color reproduction of LED, offering an outstanding display. The new LAN MDC feature offers the powerful remote controlling with the present RS232C daisy chain MDC. The Digital out will bring the clear image to multiple products from a single source. The (400EXn & 460EXn) feature a built-in PC and exclusive MagicInfo Pro and MagicInfo
i software to provide a web-based server, allowing you to access, control and upload content to your display from anywhere.
Eco-Friendly Display with LED Backlight
The Samsung EX Series LED LCD displays reduce energy consumption from 30 - 50% (depending on screen size) compared to conventional CCFL back light LCD displays. Samsung's state-of-the-art LED BLU (Back Light Unit) technology has facilitated this breakthrough in Green Technology Solutions by eliminating mercury, reducing energy consumption and making it easier to recycle.
Full HD Images
The 400EXn is designed to be adaptable to any public display usage. Featuring Full HD images, expanded digital connectivity and multi-display control, it allows you to create a digital display environment that is always clear and displays the highest resolution images.
High Speed Video with 120 Hz
Operating at twice the speed of conventional 60 Hz displays, Samsung 120 Hz displays are ideal for high-speed video and scrolling text, delivering advertising and information with complete clarity and seamless speed.
Efficient and Reliable
Samsung's revolutionary EX Series LED LCD Displays are easier for integrators and customers to install with its 1.6" ultra-slim design and reduced weight. The EX Series is Energy Star 5.0 compliant (excluding embedded PC models) and conforms to the ADA standards for wall mounting.
Check out our You Tube videos!!
Contact us today for pricing and availability!! 888-623-2004
# # #