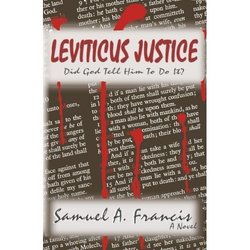 Rush Limbaugh and some pastors have said the abortion doctor who was murdered brought it on himself.
Albuquerque, NM (PRWEB) July 7, 2009
After many long years and countless hard-fought battles, GLBT rights advocates finally see a ray of sunshine coming from the White House. Obama wants to count same-sex couples in the 2010 Census and attorneys are quietly drafting guidelines barring discrimination against transgender employees in federal jobs. At the same time, though, state governments are facing renewed and vocal opposition to same-sex marriage. Samuel A. Francis, Doctor of Jurisprudence, says the volatile mix sets the stage for severe repercussions like jury nullification.
He's so concerned, in fact, that he's written Leviticus Justice, a novel in which a jury applies Biblical law instead of the law they are sworn to uphold. The story begins on a Sunday night in Albuquerque, New Mexico. Twenty-eight-year-old Steve Garcia attends his Baptist ministerial class. They study the Bible's Book of Leviticus, the part where God tells Moses, if a man lies with a man as one lies with a woman, both of them has done what is detestable, they must be put to death; their blood will be on their own heads.
Bill Roger, a gay man, has rented a room in Steve's home. After class Steve goes home intending to tell Bill he must move out. When Steve arrives, he hears Bill having sex with another man. He then hears God say that they must be put to death. He gets his pistol and puts both men to death. The police arrest him and charge him with two counts of first-degree murder.
His only defense is that God told him to put them to death. Before the trial, a devout Christian mails a Juror's Voting Guide for Serious Christians to thousands of Christians. It tells Christians who were members of a jury to vote based on the law of God, not the law of Man.
The idea for the book came to life when Francis read an article in the newspaper identifying a Colorado county treasurer handing out booklets to potential jurors. The booklet said that potential jurors were answerable only to God almighty and not to the law of man. The booklet promoted Jury Nullification.
With a law degree from the University of New Mexico, Francis knew this type of nullification could potentially reach much farther than the GLBT community. "We're seeing the same potential for jury nullification by right-wing Christians now," he says. "Rush Limbaugh and some pastors have said the abortion doctor who was murdered brought it on himself."
In fact, the lines in Leviticus and other places in the Bible could defend nearly anything by jury nullification. This specific point is hammered home in the ending of Francis' novel. When Garcia walks out of the courthouse a free man, he is approached by a gay protestor. The man carries a sign that quotes from the Book of Moses: If a man schemes and kills another man deliberately…put him to death. The man kills Garcia then yells that he can't be punished because he followed the word of God.
Francis hopes the novel brings jury nullification into the spotlight. During his years as an attorney, he saw firsthand how difficult a juror's job can be. They can't just leave all their experiences and emotions at the courthouse door, especially when the case involves violence or hot social issues. The human factor is exactly why the government offers the right to be judged by peers.
Yet jurors must put aside their religious beliefs. The government mandates the separation of church and state specifically so people of many faiths can live together. Whenever a specific religion causes jury nullification, it undermines the courts and the Constitution. "The ongoing clash between Christians and the gay community has me worried," Francis says. "Jury nullification is a very real issue. It could happen any day and that would be a tragedy."
Leviticus Justice is the third book Francis has written. The first two works are nonfiction. Good Behavior: The Supreme Court and Article III of the United States Constitution came out after the 2000 presidential election controversy. This concise book points out that justices are not appointed for life but only while they exhibit "good behavior." A brief history of the Supreme Court and a detailed appraisal of Bush v. Gore provides a thoughtful look at what constitutes good behavior.
His second book, Criminal Or Not, What Is Your Verdict? compiles ten examples of actual cases. Before providing the verdicts, the author gives readers the chance to reach their own conclusions on guilt or innocence. The cases highlight the ominous reclassification of negligent or careless acts as criminal happening in America's courtrooms.
Samuel Francis earned his J.D. from New Mexico Law School and a Bachelor's degree in political science from the University of New Mexico. His long years of practicing law have given him a unique insight into the trends being played out in America's courts, politics and society. He can be reached through his publisher, Sunstone Press. All his books are available from Amazon.
###