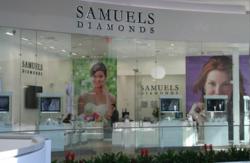 Our performance is primarily due to improvements that we made in our store operations and merchandising.
Austin, Texas (PRWEB) January 24, 2012
Samuels Jewelers, Inc., DBA Gitanjali Retail USA, is pleased to announce that holiday sales at comparable stores rose 9.5 percent in the last nine weeks of 2011 as compared to 2010. Additionally, gross margin percent was up fifty basis-points for the holiday season.
"Our performance is primarily due to improvements that we made in our store operations and merchandising," said Nehal Modi, President and Chief Executive Officer of Gitanjali Retail USA. "These improvements included the increased capability of our associates including their improved ownership mentality which provided much better customer service and in-store experience for our customers."
Gitanjali Retail USA operates a national chain of specialty retail jewelry stores that sell fine jewelry items in a wide variety of styles and prices. These stores place a principal emphasis on diamond and bridal jewelry.
As of January 19, 2012, Gitanjali Retail USA operates 110 retail jewelry stores in 22 states under the following trade names: Andrews Jewelers, Rogers Jewelers, Samuels Jewelers, Samuels Diamonds, and Schubach Jewelers. Gitanjali Retail USA also sells jewelry online at SamuelsJewelers.com, SamuelsDiamonds.com, Rogers-Jewelers.com, Andrews-Jewelers.com, and SchubachJewelers.com.
Measured by the number of retail locations, Samuels is the sixth-largest specialty retailer of fine jewelry in the country.
GITANJALI RETAIL USA'S SAMUELS JEWELERS:
Samuels Jewelers and Samuels Diamonds have been serving jewelry customers since 1891. Their 120-year diamond tradition began in San Francisco, where Albert Samuels first opened his doors in 1891. The three-story building on Market Street housed 40 jewelers who designed and skillfully created fine jewelry to exacting standards. The entire first floor showcased the results of their master craftsmanship.
However, Albert Samuels felt having the best jewelry meant little without exceptional customer service. Once, he discovered a customer had been inadvertently charged for a routine repair. Because he didn't know the customer's name, he paid to publish his apology in the San Francisco Chronicle. The letter ended with a plea for the customer to return to Samuels Jewelers and pick up her dollar.
Today, Samuels Jewelers is committed to preserving those same principles of quality, value and customer service excellence established by its founder over 120 years ago.
###