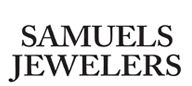 Austin, TX (PRWEB) November 18, 2011
Samuels Jewelers and Samuels Diamonds are excited to announce the introduction of LUX3, a collection that features pieces in a combination of platinum, gold and silver. These metals are known as both "noble" and "precious" metals. Noble metals are anticorrosive and resistant to oxidation while precious metals are rare and often prized as currency throughout history. Now, Samuels Jewelers has combined these metals with other alloys to form affordable, luxurious LUX3 jewelry creations.
LUX3 is a proprietary combination of precious metals exclusive to Samuels Jewelers. It is used to create pieces of lasting beauty that are anti-tarnish and hypoallergenic. LUX3 is also plated with additional platinum for added durability.
Samuels Jewelers has put together a collection of men's diamond rings and trio sets in LUX3. The wide price range and selection of handsome pieces are sure to appeal to everyone. The exclusive Angelina Bridal Brand also features LUX3, so ladies can enjoy all that this proprietary combination of precious metals has to offer in terms of luxury and affordability.
ABOUT SAMUELS JEWELERS AND SAMUELS DIAMONDS
Samuels Jewelers and Samuels Diamonds have been serving jewelry customers since 1891. Their120-year diamond tradition began in San Francisco, where Albert Samuels first opened his doors in 1891. The three-story building on Market Street housed 40 jewelers who designed and skillfully created fine jewelry to exacting standards. The entire first floor showcased the results of their master craftsmanship.
However, Albert Samuels felt having the best jewelry meant little without exceptional customer service. Once, he discovered a customer had been inadvertently charged for a routine repair. Because he didn't know the customer's name, he paid to publish his apology in the San Francisco Chronicle. The letter ended with a plea for the customer to return to Samuels Jewelers and pick up her dollar.
Today, Samuels Jewelers is committed to preserving those same principles of quality, value and customer service excellence established by its founder over 120 years ago.
###