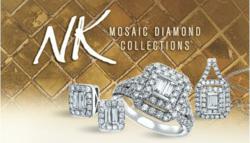 Austin, TX (PRWEB) September 25, 2012
Samuels Jewelers, Samuels Diamonds, and Schubach Jewelers, three members of the Samuels Jewelers family of stores, are pleased to announce the introduction of three new lines from the NK Mosaic Diamond Collection. Each line—Gemini, Galaxy and Polaris—offers diamond engagement rings with attractive cuts and even more attractive prices.
The NK Mosaic Diamond Collection is based on the traditional art of laying tiles to create a masterful piece of art. Mosaic artwork dates back centuries and its creation relies on the craftsmanship of artisans to lay multicolored glass, ceramic, or stone to produce breathtaking works of art.
Samuels Jewelers, Samuels Diamonds, and Schubach Jewelers are proud to continue this traditional art form in the realm of jewelry with the NK Mosaic Diamond Collection. The centerpieces of every engagement ring, necklace or earring in the NK Mosaic Diamond Collection feature two or more perfectly matched stones. With these stones fitted tightly together, they create the illusion of a larger, more expensive center stone.
Gemini jewelry features baguette-shaped diamonds as the centerpiece. With two stones placed side-by-side, they create an emerald cut look. In many engagement rings, this centerpiece is accented with round brilliant cut diamonds to create a stunning, sophisticated piece of jewelry.
Galaxy engagement rings are created by fitting several round brilliant cut diamonds together to create a large but affordable centerpiece to the ring. Both contemporary and traditional pieces can found in this line.
Polaris is inspired by the ever-popular princess cut diamond. With four or more stones set together, they blend seamlessly into a bold square or rectangular centerpiece.
All pieces found in these three NK Mosaic Diamond Collection lines are set in 14k white gold. Shoppers can browse online or shop in store locations across the country.
Company Description:
Samuels Jewelers has been serving jewelry customers since 1891. Their 120-year diamond tradition began in San Francisco, where Albert Samuels first opened his doors. Today, Samuels Jewelers is committed to preserving the principles of quality, value and customer service excellence established by its founder.
Schubach Jewelers is celebrating over 100 years of providing exquisite bridal jewelry pieces and gift-giving guidance for families and couples in Utah and Idaho. Many Schubach clients come from surrounding states as well to enjoy this jeweler's wide selection, unmatched payment options, and expert advice throughout the wedding and jewelry-giving experience. Schubach Jewelers is sure its selection will exceed the demanding expectations of today's consumer well into the future. Visit http://www.schubachjewelers.com to see why, generation after generation, Schubach Jewelers continues to be the store customers can trust.
###