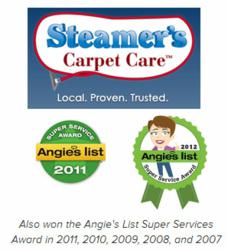 San Antonio, TX (PRWEB) December 19, 2012
Steamer's Carpet Care has earned the prestigious Super Service Award from Angie's List for the sixth year in a row.
Each year, Angie's List gives the honor to fewer than 5 percent of all service and healthcare providers in each city. In order to qualify for the award, businesses must earn a minimum number of unsolicited reports and a grade point average calculation of 3.5 or better. The San Antonio carpet cleaners' final grade point average calculation for this year was 3.97.
"This honor belongs to our conscientious and dedicated technicians," said Jon Bibb, owner of Steamer's Carpet Care. "They work so hard to ensure that our customers are completely satisfied after every job, and I'm glad that their hard work is recognized by outside organizations like Angie's List. It feels great that we've been recognized for providing excellent customer service for six years in a row. We look forward to continuing to provide top-notch service to the San Antonio area for years to come."
Steamer's Carpet Care aims to provide the highest level of customer service to the San Antonio area. The company is locally based owned and prides itself on its strong ethics.
To read more about the company's cleaning and service philosophy, click here.
About Steamer's Carpet Care
Steamer's Carpet Care prides itself on offering exceptional carpet care to the areas around San Antonio, New Braunfels, Boerne, Bulverde, Canyon Lake and Seguin. The company provides all varieties of floor cleaning, from carpet to tile, commercial services and water extraction. For the last six years, Steamer's Carpet Care has earned the Super Service Award from Angie's List.
###