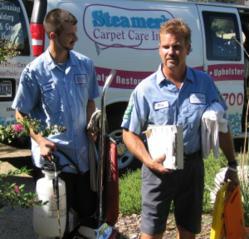 SAN ANTONIO, TEXAS (PRWEB) April 08, 2013
Steamer's Carpet Care, a San Antonio carpet cleaning company, has chosen to recognize The Boot Campaign for its monthly charity spotlight.
The Boot Campaign is a national nonprofit organization with a mission to show tangible appreciation of U.S. active military members and raise awareness of the challenges soldiers face upon returning home in order to support their transition. The nonprofit was founded in Texas.
"This cause is particularly close to our hearts, living and working in San Antonio, which has a large military population," said Jon Bibb, the owner of Steamer's Carpet Care. "We try to do everything we can to support soldiers as they come home. A few years, we started a partnership with Operation Homefront to provide free carpet cleaning to the families of returning soldiers. The Boot Campaign has a goal we greatly admire: Supporting returning soldiers as they transition to being home."
The Boot Campaign sponsors events around the country, including the third annual Granger Smith 100 Mile Boot Walk, which is happening this week, from April 7 to April 11, on a 100-mile stretch from Austin to Fort Hood. The walk aims to raise $20,000 to help servicemen and women through mortgage-free housing, PTSD counseling, emergency assistance funds and more.
To read Steamer's Carpet Care's March Charity Spotlight, click here.
About Steamer's Carpet Care
Steamer's Carpet Care prides itself on offering exceptional carpet care to the areas around San Antonio, New Braunfels, Boerne, Bulverde, Canyon Lake and Seguin. The company provides all varieties of floor cleaning, including carpet and tile, and also offers commercial services and water extraction. Steamer's Carpet Care has been given the Angie's List Super Services Award, an award given to less than 5 percent of businesses in the Angie's List service area, for the last six years in a row.
###