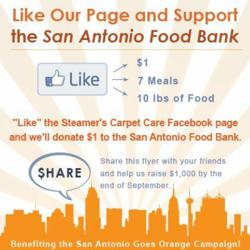 San Antonio, Texas (PRWEB) October 02, 2012
Steamer's Carpet Care has wrapped up its September Facebook campaign benefiting the San Antonio Food Bank, and the results were staggering.
With the help of its Facebook friends, the San Antonio carpet cleaners were able to donate 1,990 pounds of food, which equates to 1,393 meals for hungry people in the San Antonio area.
At the beginning of September, Steamer's Carpet Care agreed to donate $1 for each like the company's Facebook page received during the month.
With every $1 the San Antonio Food Bank receives in donations, the organization can use its distribution network to purchase 10 pounds of food, which equates to seven meals.
During the promotion, 199 people liked the Steamer's Carpet Care Facebook page.
The providers of San Antonio carpet cleaning decided to partner with the San Antonio Food Bank because of the variety of programs the organization offers to help hungry families in the San Antonio area.
In coordination with its more than 530 partner agencies, the San Antonio Food Bank offers programs to help San Antonians in need.
For children, the organization runs Kids' Cafe, which feeds children in afterschool programs and the Summer Food Service Program, which feeds children during the summer, a time that many children living in poverty do not have access to subsidized school lunches.
The Food Bank also offers a pet food program, the Senior Farmers' Market program and nutrition and diabetes classes for people in the area.
"Our city suffers from a lot of food-related health problems," said Steamer's Carpet Care owner Jon Bibb. "We have hungry people who can't afford healthy food, people who have developed Type 2 diabetes and don't know how to properly manage the condition, and people who have to choose between feeding their pet or themselves. The Food Bank does a great job of helping our city with some of its biggest problems."
Steamer's Carpet Care will also be running a food drive later this fall to help the San Antonio Food Bank in its mission to fight hunger in Southwest Texas.
About Steamer's Carpet Care
Steamer's Carpet Care prides itself on offering exceptional carpet care to the San Antonio and New Braunfels areas. The company provides all varieties of floor cleaning, from carpet to tile, commercial services and water extraction.