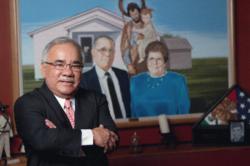 Winning isn't luck. It's knowing how to fight
San Antonio, TX (PRWEB) January 26, 2012
The Herrera Law Firm, one of San Antonio's venerable law firms, has been fighting for injury victims throughout Texas for nearly 30 years. Over the decades, the legal team at the firm has been committed to providing aggressive representation in personal injury and wrongful death cases. The personal injury attorneys in San Antonio also are skilled at civil trial, labor and employment law.
When he was recently reflecting on the firm's longevity, Herrera Law Firm founder Frank Herrera told NSIDE Business Magazine he defines success as having satisfied clients with great results. "I tell the lawyers here, "Look, if your idea is to make a ton of money, then you're in the wrong place. But, if you treat people right and work hard to ensure they have the best representation possible, then the financial benefits will follow. The rest is a bi-product that comes with the job," Herrera said.
The firm, which was founded in 1983, draws on the talents of an ambitious and hardworking staff dedicated to helping the underdog achieve justice. Frank Herrera's team includes Laura Tamez, attorney-at-law, and Herrera's sons, Jorge Herrera, attorney-at-law, and Javier Herrera, attorney-at-law.
A family business serving the injured throughout Texas and beyond
Frank Herrera said he was proud to have his sons follow in his footsteps. They work closely together and respect each other's decisions.
Frank Herrera told NSIDE Business Magazine: "I look forward to the day when all three of us will be in the courtroom on a major case and I'm just sitting in the background, giving my thoughts and suggestions. It has been a marvelous experience having both my sons following in my career path and footsteps."
These passionate attorneys understand the devastating impact of catastrophic accidents, how lives can be destroyed and people can lose their financial stability. They believe strongly in building a stronger community through their work, and helping lift up people who have been injured due to negligence.
They closely follow Frank Herrera's motto, "Winning isn't luck. It's knowing how to fight."
Tamez said she is proud of the work the firm has done for its clients. Speaking to NSIDE Business Magazine, she said: "Not only do we have the best when it comes to experience, but when we go to the courtroom on behalf of our clients, we go there to do battle for them as we seek justice for their cause."
About The Herrera Law Firm
For more than three decades, the Herrera Law Firm has represented people injured or who have lost loved ones due to the carelessness or negligent actions of others. The personal injury lawyers in San Antonio are committed to championing the rights of the underdog in Texas and throughout the United States.
The Herrera Law Firm focuses on all types of personal injury litigation, including but not limited to auto accidents, eighteen-wheeler accidents, litigation involving defective drugs and medical devices, oil rig accidents, construction accidents and workplace accidents. To contact the firm, call 1-800-455-1054 or visit http://www.herreralaw.com for more information.
###