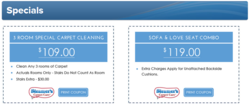 SAN ANTONIO, TEXAS (PRWEB) November 21, 2012
Steamer's Carpet Care is offering seven San Antonio carpet cleaning specials for the holiday season.
Customers can get three rooms of carpet cleaned with Steamer's Carpet Care's nine-step cleaning process for only $109, with the option of adding stair carpet cleaning for only $30 more.
For customers who want the carpet in their entire home cleaned, Steamer's Carpet Care is offering whole house carpet cleaning for $169 for homes under 2,000 square feet or $209 for homes under 3,000 square feet. Stair cleaning can be added to either package for an additional $30.
Steamer's Carpet Care is also offering a special price for cleaning a sofa and love seat with its "Sofa & Love Seat Combo." Customers can have their sofa and love seat cleaned for $119.
The San Antonio carpet cleaners don't just clean carpet and fabric, though. The company also provides high-quality tile and grout cleaning. Customers can have their tile cleaned with Steamer's Carpet Care's powerful truck-mounted and no-mess equipment for only $0.69 per square foot. The special is for tile preconditioning, rotary scrub and high-pressure "turbo" rinse.
The company is offering grout sealing at a special price of $0.39 per square foot so customers can lock in the "like new" appearance that comes after deep cleaning.
Steamer's Carpet Care will also clean air ducts at a special price this holiday season: For $199, customers can have up to 10 supply vents, one return and all vent covers cleaned. Customers with more than the allotted number of vents can have additional vents cleaned for $20 each.
These special prices come just in time for the holidays, when families want to have their homes looking as nice as possible before friends and relatives visit. To view or print the coupons for these specials, click here.
About Steamer's Carpet Care
Steamer's Carpet Care prides itself on offering exceptional carpet care to the areas around San Antonio, New Braunfels, Boerne, Bulverde, Canyon Lake and Seguin. The company provides all varieties of floor cleaning, from carpet to tile, commercial services and water extraction.
###