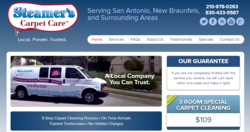 San Antonio, TX (PRWEB) October 18, 2012
Steamer's Carpet Care has embraced the mobile age by implementing a new Web design that creates a seamless mobile experience regardless of the device or operating system.
The San Antonio carpet cleaners chose to implement the responsive design after noticing that mobile Internet usage is growing rapidly and changing the way people see the Web. Steamer's Carpet Care harnesses most of its business through the Internet.
"Understanding Web technologies is crucial for our business," Jon Bibb, the company owner, said. "Through visitor tracking and measuring with the assistance of our interactive marketing firm, we recognized a growing trend of users accessing our site through mobile devices. This is our response to give our clients a better mobile experience."
The website continues to offer great content and tips, as well as information on the company's community involvement and service. A wealth of blog entries can be found addressing all things carpet related.
Steamer's Carpet Care is a leading company in the carpet care industry, quickly adapting and conforming to standards usually expected of much more technically inclined businesses. This rapid move sets a precedent that is bound to force other businesses to conform as well.
"You can't deny the overwhelming evidence that our measurements show," said Ricardo Casas, the CEO of Fahrenheit Marketing, Steamer's Carpet Care's interactive partner. "The Web is mobile and so is the work we do. Steamer's Carpet Care is an amazing outfit and their concern to meet the need of their growing mobile base shows their vision and care for their clients, even as they land on that website for the first time."
About Steamer's Carpet Care
Steamer's Carpet Care prides itself on offering exceptional carpet care to the San Antonio and New Braunfels areas. The company provides all varieties of floor cleaning, from carpet to tile. It also offers commercial services and water extraction. Steamer's Carpet Care is a BBB Accredited Business and has won the Angie's List Super Services Award every year since 2007. To learn more about the Steamer's Carpet Care, click here.
# # #