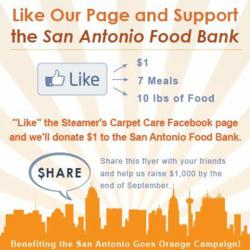 San Antonio, Texas (PRWEB) September 05, 2012
Steamer's Carpet Care, carpet cleaners in San Antonio, have begun a campaign benefitting the San Antonio Food Bank, donating $1 for each Facebook "Like" the business' page gets in the month of September.
The San Antonio rug cleaners are donating money to the food bank in order to relieve hunger in the San Antonio area. The Facebook campaign coincides with the food bank's September campaign, San Antonio Goes Orange.
For each dollar Steamer's Carpet Care donates, the San Antonio Food Bank will be able to purchase 10 pounds of food, which works out to about seven meals for hungry people in the San Antonio area.
"Feeding the hungry is important," said Steamer's Carpet Care owner Jon Bibb. "We're supporting the work of the San Antonio Food Bank because we believe that what they do can help those in poverty and can truly improve our community. In addition to providing food, the organization also provides excellent educational opportunities to help curb the epidemic of Type 2 diabetes and to teach people how to make healthy nourishing meals for themselves and their families."
This isn't the first time Steamer's Carpet Care has partnered with the food bank. Since 2008, the company has collected canned food from customers each fall to be donated to the food bank.
Steamer's Carpet Care will also be donating a gift certificate for San Antonio carpet cleaning to the Harvest for Hope silent auction the San Antonio Food Bank will present later this month.
About Steamer's Carpet Care
Steamer's Carpet Care prides itself on offering exceptional carpet care to the San Antonio and New Braunfels areas. The company provides all varieties of floor cleaning, from carpet to tile, commercial services and water extraction. The company services homes and businesses in Comal county, Guadalupe county, Bexar county and Kendall county.
###